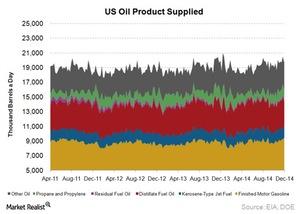 Effect of product supplied on crude tankers
By Katie Dale

Updated
What is product supplied?
Product supplied indicates the consumption of petroleum products as it measures the disappearance of these products from their primary sources. Primary sources include refineries, natural gas processing plants, blending plants, pipelines, and bulk terminals. Finished motor gasoline, kerosene type jet fuel, distillate fuel oil, residual fuel oil, propane/propylene, and other oils are included in the calculation of total product supplied.
Article continues below advertisement
Weekly product supplied rising
For the week ended December 12, 2014, total product supplied stood at 20.1 million barrels per day (or bpd) compared to 19.8 million bpd in the first week of December in the same period a year ago and 19.9 million bpd in the previous week. Except for propane/propylene, residual fuel oil, and other oils, all other components of product supplied recorded a year-over-year increase.
Over the last four weeks, an average of 20.1 million bpd of product oil were supplied, up by 1.4% from the same period last year.