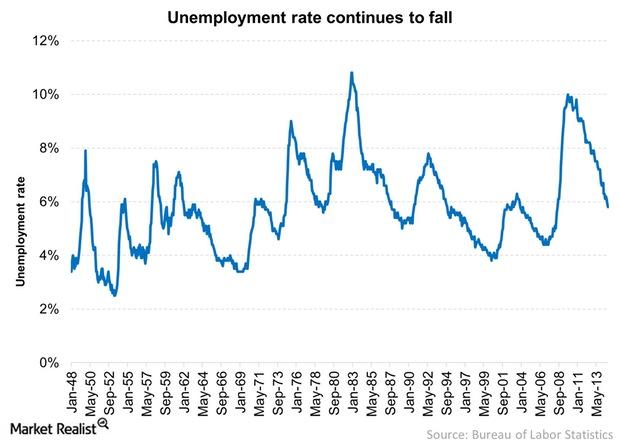 Why The Dip In The Unemployment Rate Is Insufficient 
By Matt Tucker, CFA

Nov. 20 2020, Updated 2:22 p.m. ET
Economic Indicators to Watch
In previous meetings the Fed had indicated that they were focused on the US economy attaining full employment, and that an unemployment rate of 6.5% was being used as an employment goal. Unemployment is now 5.8% and there was some question about what the Fed would do if they hit their employment goal, but we're not yet seeing broad economic growth they were hoping for. To address this, the Fed indicated it would focus on a range of statistics including labor market measures, inflation, and other financial developments. This will give the Fed more flexibility in assessing the overall health of the economy and taking appropriate action.
Article continues below advertisement
Market Realist – Despite the dip in the unemployment rate, interest rates remain close to zero
The graph above shows the historical unemployment rate in the US. The unemployment rate increased to 10% at the peak of the Great Recession. The rate breached 10% for the first time since 1982. This was when the US (SPY)(IVV) endured another deep recession.
The unemployment rate has been decreasing since then. Now, it stands at a reasonable 5.8%. This is much better than other developed markets (EFA)—particularly Europe (EZU). In Europe, the unemployment rate is over 11%.
Although this is below the 6.5% that the Fed set as its rate hike trigger, there are reasons today for some leeway as far as rate hike. The sudden slump in oil (USO) prices has led to a dip in November's inflation figures. Inflation now stands at 1.3%—down from 1.7% in October. Hiking the interest rate lets the Fed tame inflation. Since inflation rates have dipped, the Fed can keep rates low for now.
Also, despite the dip in the unemployment rate, wage growth remains anemic and the labor force participation is at a 35-year low. These factors have subdued consumption.