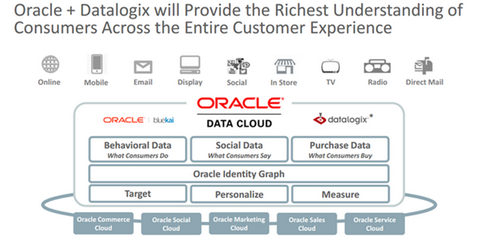 Datalogix is important element of Oracle's acquisition strategy
By Anne Shields

Updated
Oracle acquires Datalogix
On December 22, 2014, Oracle (ORCL) announced the acquisition of Datalogix, a provider of digital marketing data as a service (or DaaS). Datalogix connects offline consumer spending data with digital marketing efforts with the goal of tracking advertising, its influence on consumers, and the resultant returns.
Datalogix has more than 650 customers and 1,500 data partners that track $2 trillion in consumer spending. Advertisers and digital media publishers such as Lenovo, Google (GOOG), (GOOGL), Facebook (FB), Twitter (TWTR), Ahold, Kraft (KRFT), and Ford use Datalogix to enhance their media presence. The company provides purchase-based targeting that leads to more revenue generation.
Article continues below advertisement
Acquisition will aid in data cloud formation
According to Datalogix CEO Eric Roza, "Datalogix's mission is to help the leading consumer marketers connect digital media to the offline world as ~93% of the consumer spending occurs."
Omar Tawakol, Group VP and GM of Oracle Data Cloud, notes, "The addition of Datalogix to the Oracle Data Cloud will provide data-driven marketers the most valuable targeting and measurement solution available. Oracle will now deliver comprehensive consumer profiles based on connected identities that will power personalization across digital, mobile, offline and TV."
Through this acquisition, Oracle can personalize and measure customer interaction. It can provide marketers and publishers with the understanding of consumers across both digital and traditional channels based on their behavior, views, and purchase decisions. After the acquisition, Datalogix will continue to operate as an open platform, and customers and partners will continue to use current contacts.