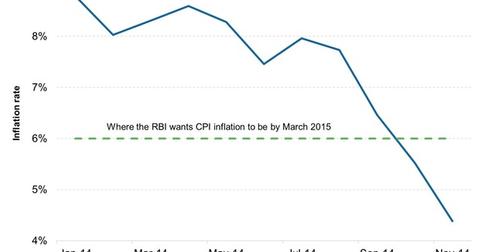 Why crude prices are important to India's central bank
By David Ashworth

Updated
Monetary policy stance
In its latest bi-monthly policy review on December 2, the RBI (Reserve Bank of India) didn't increase its key repo rate. The RBI is India's central bank. This "no action" decision was contrary to market expectations. Market expectations were asking for a rate cut—given the slowing pace of inflation.
The disappointment was greater this time. The RBI maintained the status quo on rates for the second meeting in a row—even after calls for a cut.
Article continues below advertisement
Rationale
Even after expectations for a rate cut, the RBI didn't oblige. At this point, it thought that a rate cut would be premature. It wanted to be sure that the slowing of the inflation rate, or disinflation, is sustainable. Disinflation needs to be here to stay. The central bank revised down its forecast of CPI (consumer price index) inflation to 6% by March 2015—from the earlier target of 8% by January 2015.
The RBI's medium-term outlook on inflation depends on international crude prices, among two other factors. One of the factors is no change in administered prices in the fuel group. It also stated that "Further softening of international crude prices in October eased price pressures in transport and communication."
As a result, if crude oil prices remained low for some time, it would help the RBI better judge the course of inflation. It would help the RBI make changes to its policy stance. Even the government is waiting for this change. It would help the government put India on a faster growth path.
Faster economic growth would benefit ETFs—like the WisdomTree India Earnings Fund (EPI), the PowerShares India Portfolio (PIN), and the iShares MSCI India ETF (INDA). Apart from these, stocks that are sensitive to the interest rate—like the ICICI Bank (IBN) and HDFC Bank (HDB)—are also expected to benefit. Lower rates will help these banks give out more loans.
In the next part of this series, we'll see how the falling crude prices can impact India's fiscal deficit.