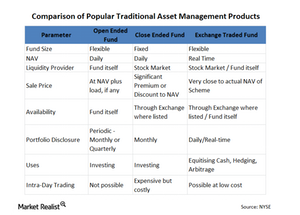 Close-ended funds: A niche product for wealthy investors
By Saul Perez

Nov. 27 2019, Updated 7:44 p.m. ET
Niche traditional asset management products
Previously, you'll have come across a few other traditional asset management products. Chief among the smaller asset management products are close-ended funds and unit investment trusts. We won't go into these products in too much detail, but we will look at them briefly. This should give you a complete picture of the traditional asset management space.
Article continues below advertisement
Close-ended funds: A cross between mutual funds and ETFs
A close-ended fund is similar to a mutual fund that can be traded on a stock exchange. The style of management applied to these funds is active. The fund manager buys and sells securities with the aim of beating the benchmark.
Where it differs from actively managed mutual funds is that it doesn't accept fresh money. The total assets remain fixed at the level of initial subscription. New investors can enter only if an existing investor is willing to sell some units.
In a way, you can say that close-ended funds are a cross between actively managed mutual funds and ETFs. But the cost of trading in close-ended funds is much higher.
The chart above compares mutual funds, close-ended funds, and ETFs. It gives you a good idea about the close-ended funds.
Close-ended funds are offered by asset management firms such as Legg Mason (LM), T. Rowe Price (TROW), Blackstone Group (BX), and Franklin Templeton Investments (BEN). All of these companies are part of the Financial Select Sector SPDR Fund (XLF).