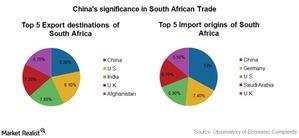 China's growing power over South Africa
By Surbhi Jain

Updated
China is Africa's largest trading partner
China became Africa's largest trading partner in 2009, surpassing the US. China's key motive in investing in Africa is to take advantage of the continent's rich natural resources to meet the growing needs of its people.
By 2013, China (FXI) recorded nearly 2.2 trillion rand (approximately $187 billion) in trade flows in Africa (EZA), making it clear that they want to become the most influential foreign power in Africa. China's total trade with South Africa increased from approximately 190 billion rand ($16.5 billion) to 270 billion rand ($23 billion) during 2013. It is rapidly approaching 300 billion rand ($25.5 billion).
Article continues below advertisement
Bilateral trade volume between South Africa and China
The bilateral trade volume between the two nations stood at approximately 12 billion rand ($1 billion) when the diplomatic relationship was first established in 1997. By 2012, the figure reached nearly 660 billion rand ($56 billion), which indicates a 40-fold increase in 15 years.
Subsequently, China has become South Africa's largest trading partner, largest export market, and largest source of imports for the past four years. Between January 2003 and January this year, a total of 38 foreign direct investment projects were recorded, representing a total capital investment of 13.33 billion rand ($1 billion), or an average investment of 350.5 million rand ($30 million) for each project from China.
Intensifying South Africa-China relations