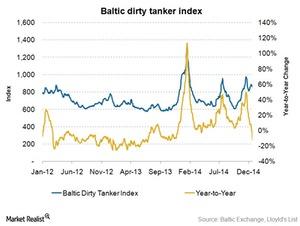 Baltic Dirty Tanker Index widens from October levels
By Katie Dale

Updated
Baltic Dirty Tanker Index
Analysts and money managers follow the Baltic Dirty Tanker Index in order to assess the revenue and earnings potential of the crude oil shipping industry. How the Baltic Dirty Tanker Index performs, especially on a year-over-year growth, is one factor that has significant implications for companies such as DHT Holdings Inc. (DHT), Frontline Ltd. (FRO), Teekay Tankers Ltd. (TNK), Nordic American Tanker Ltd. (NAT), and the Guggenheim Shipping ETF (SEA).
Article continues below advertisement
November trend
The Baltic Dirty Tanker Index widened to 862 on December 24, 2014, from 639 on October 1, 2014. It recorded a 34.9% increase as China increased imports of raw goods. On a year-over-year basis, the index recorded a 13.5% decrease from 997 on December 24, 2013.
With a positive index movement, crude tankers are likely to be in the positive. In our upcoming parts, we'll discuss other factors that support the positive movement of the industry.
The Baltic Dirty Tanker Index is connected with the Guggenheim Shipping ETF (SEA). Energy accounts for 37.01% of the fund's total holdings. Teekay Corp. (TK) holds 4.93%, while Teekay Offshore Partners LP holds 4.1% of the ETF holdings.
Market sentiment
The crash in crude oil prices has been supporting the shipping sector with higher demand for oil tankers. The Balic Dirty Tanker Index has recovered from its lows in September 2014 and recorded 24.4% growth. However, it's still 18.4% lower than January levels.
Industry analysts comment that lower crude prices make oil purchases attractive, thus triggering stockpiling and thereby a rise in demand for tanker vessels. Demand for crude is generally higher during the winter.