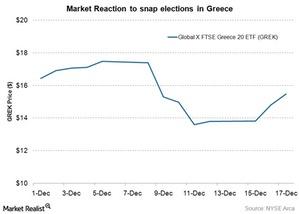 Why the bailout extension is politically important to Greece
By Surbhi Jain

Dec. 19 2014, Updated 9:22 a.m. ET
Greece gets two-month extension on bailout loan
On December 8, Eurozone finance ministers gave a two-month extension to Greece's bailout program sponsored by the European Union (or EU) and the International Monetary Fund (or IMF). Greece has been waiting for a credit line of 1.8 billion euros.
However, Greece disagreed on the necessary economic reforms put forth by the troika of the European Commission, the European Central Bank, and the IMF as preconditions to releasing a final aid payment.
Article continues below advertisement
Political importance of the extension
The extension is critical to Greece's political landscape. An extension means the government can take a few more weeks to complete negotiations with the troika on economic reforms that lenders laid down in exchange for the bailout loans.
The new austerity measures as advised by the troika include deep spending cuts, tax increases, civil service layoffs, and pension-system changes, among other things. On November 27, Greeks took to the streets to protest these austerity measures.
Market impact
Disagreement over new austerity measures with the troika led Greece's Prime Minister Antonis Samaras to take a sudden and market-moving decision on December 9. The FTSE Greece 20 ETF (GREK) is an exchange-traded fund that tracks the FTSE/Athex 20 Index.
The index, composed of the top 20 companies in Greece, tracks broad-based equity market performance in Greece, just like the SPDR S&P 500 ETF Trust (SPY) and the Vanguard 500 Index Fund (VOO) track the US. Plus, the iShares MSCI Japan ETF (EWJ) tracks Japan, the WisdomTree India Earnings Fund (EPI) tracks India, the Market Vector Russia ETF Trust (RSX) tracks Russia, and the Vanguard FTSE Europe ETF (VGK) tracks Europe.
Following Samaras's decision, the price of the GREK dropped by $2.07, or 12%, between December 8–9, 2014.