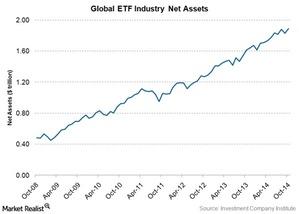 Asset managers flock to join rapidly expanding ETF market
By Surbhi Jain

Updated
Asset managers eye $2 trillion ETF industry
For years, investor preference has shifted from traditional mutual funds to low-fee index-tracking exchange-traded funds (or ETFs) due to reasons described in our series, Why Wall Street's biggest banks are entering the ETF space. The series talks about three of the biggest financial firms in the US—JPMorgan Chase & Co. (JPM), Wells Fargo & Co. (WFC), and Goldman Sachs Group Inc. (GS)—entering the ETF space.
Article continues below advertisement
However, the degree of transparency associated with actively managed ETFs has so far fed the market for actively managed mutual funds. The transparency that makes ETFs so appealing also serves as a hindrance to active managers, who prefer issuing mutual funds over ETFs. Asset managers have expressed concerns regarding front-running buying and selling activities by traders to take advantage of the moves of ETF managers.
SEC allows actively managed ETMFs
With the SEC's recent decision to allow nontransparent, actively managed ETMFs (exchange-traded managed funds), some mutual fund providers have started moving toward the ETP (exchange-traded products) space. The new legal status of actively managed ETPs is likely to reduce demand for mutual funds over the long term.
Article continues below advertisement
Goldman, New York Life eye expanding ETF market
In October 2014, Janus Capital Group (JNS) acquired the parent company of VelocityShares, the $2.4 billion ETF provider known for its exchange-traded notes linked to futures on the CBOE Volatility Index. In the same month, Goldman Sachs Asset Management announced its intentions to buy the ETF provider IndexIQ, renowned for its alternative investment strategies. However, the deal did not come to fruition.
In November, Eaton Vance Corp. (EV) received regulatory approval by the Securities and Exchange Commission (or SEC) to launch nontransparent, actively managed ETMFs. The most recent bid to enter the ETF space came from the largest US mutual life insurance company, New York Life Insurance Company, which announced its intentions to acquire IndexIQ.