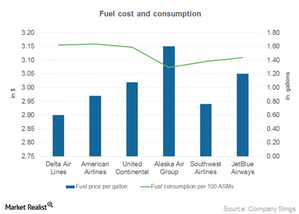 American reduces 3Q14 fuel expense, fuel efficiency dips
By Teresa Cederholm

Updated
Fuel expense declines
Fuel expenses for airlines follow the trend in crude oil prices, as jet fuel is a refined product of crude oil. Due to declining crude oil prices, all airlines have reported lower fuel expenses, the largest component of operating expenses of airline companies. A major portion of the margin improvement comes from lower fuel costs.
American Airlines's fuel expense was $3,367 million in 3Q14, 1% lower than in 3Q13, driven by a 1.6% year-over-year decrease in average price per gallon to $2.98 from $3.03 in 3Q13. Fuel expense per available seat mile (or ASM) also decreased by ~3% to 4.87 cents in 3Q14 from 5.02 cents in 3Q13. American has benefited from its current policy of not entering into fuel hedging contracts, especially in a scenario of falling crude prices.
Article continues below advertisement
Low fuel efficiency compared to peers
Although fuel consumption increased by 0.6% to 1,130 million gallons, there is an improvement in fuel efficiency as the fuel consumption per 100 ASMs declined from 1.66 gallons in 3Q13 to 1.63 gallons in 3Q14. However, American Airlines's fuel expense per ASM was 4.87 cents, the highest among its peers, despite having a comparatively lower fuel price per gallon. This is mainly due to higher fuel consumption per 100 ASMs compared to its peers.
American's (AAL) fuel consumption per 100 ASMs of 1.63 gallons is higher than Delta's (DAL) 1.62 gallons, United's (UAL) 1.59 gallons, Alaska's (ALK) 1.29 gallons, Southwest's (LUV) 1.38 gallons, and JetBlue's (JBLU) 1.44 gallons. American is investing in modernizing its fleet and took delivery of new mainline aircraft in 3Q14. We will explore this aspect further in Part 10.
Transportation ETFs such as the iShares Transportation Average ETF (IYT) and the SPDR S&P Transportation ETF (XTN) have holdings in airline stocks that reported improved profitability due to lower fuel costs.