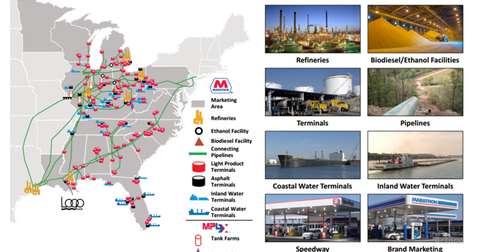 Advantages of the MPLX-Marathon Petroleum association
By Keisha Bandz

Updated
The MPLX-Marathon Petroleum association
One of MPLX LP's (MPLX) principal strengths is its relationship with Marathon Petroleum Corporation (MPC). According to the MLPX 10-K, Marathon Petroleum Corporation, or MPC, is the fourth-largest petroleum refiner in the US. It owns and operates seven refineries and also has an extensive wholesale and retail refined product marketing operation that serves markets primarily in the Midwest, Gulf Coast, and Southeast regions of the United States.
MPC's operations require large-scale movements of crude oil and feedstocks to and between its refineries, as well as large-scale movements of refined products from its refineries to various markets. To meet this requirement, MPC has an extensive, integrated network of midstream assets.
To manage its midstream assets, MPC formed its MLP subsidiary MPLX, which has resulted in a mutually beneficial business arrangement.
Article continues below advertisement
How MPLX has benefitted
First, MPC is a major revenue source for MPLX. It provides stable cash flows to MPLX, thanks to the long-term, fee-based agreements it has entered into with MPC.
Second, the company owns substantial midstream assets, which could be potential dropdowns and, as such, represent growth opportunities for MPLX. If the company continues to pursue several growth projects to grow its midstream asset base further, we could see more frequent dropdowns in the future.
MPC intends for MPLX to lead its midstream business, and, according to MPLX in its 10-K, "MPC has stated that it intends for us to be the primary growth vehicle for its midstream business."
MPC's advantage
As you've read previously in this series, MPLX assets are integral to MPC's operations. MPC has entered into long-term arrangements with MPLX to make use of its transportation and storage services. MPLX assets weave into MPC's operations and facilitate smooth operations.
Key ETFs
MPLX LP is a component of the Global X MLP & Energy Infrastructure ETF (MLPX). Its parent company, MPC, is a component of the Energy Select Sector SPDR Fund (XLE). MPC is also a component of broader market ETFs such the SPDR S&P 500 ETF Trust (SPY).
In the next part, you'll learn how MPLX performed in the latest quarter.