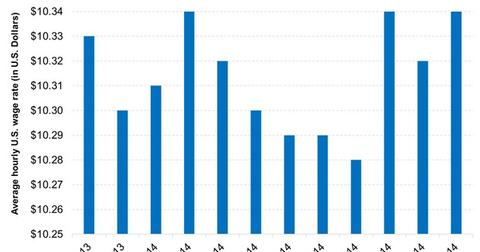 Absent wage growth: A structural obstacle
By Rick Rieder

Updated
Second, there are structural—not cyclical—obstacles to higher employment.  The economy is growing in a way that clearly doesn't require the same number of jobs as in the past. Technology (XLK), innovation, job skills mismatches and demographic trends continue to weigh on job growth.
Article continues below advertisement
Market Realist – Absent wage growth has affected consumer spending
The graph above shows the annual hourly wage rate in the United States (SPY) (IVV) over the last 12 months. The wage rate has picked up in the last three months. However, the wage rate today is around the same level as it was 12 months back. This means wage growth is absent. This has had a dampening effect on consumer spending, as disposable income is an important determinant of spending.
Market Realist – Labor force participation rate is low
Unemployment rates have been high in the United States and other developed markets (EFA), especially Europe (EZU). However, employment rates have dipped in the United States. The unemployment rate in the United States is currently 5.8%. Although the rate has reduced to a great extent, the number of discouraged workers is concerning.
The graph above shows the labor force participation rate, which is the ratio of labor force to the number of people roughly between the ages of 15 and 65. Labor force includes individuals who are working or who are actively looking for work. It excludes discouraged workers, homemakers, students, and retirees who fall within that age group.
The labor force participation rate is close to a 10-year low of 62.7%, which means the dip in the unemployment rate does not tell the whole story.