What is Abenomics?
Japan's economy has been in stagnation for more than two decades. Weak consumption and low growth have first resulted in and then fueled the sag, creating a vicious cycle. Repeated attempts to bring growth back to life have failed. The graph below shows Japan's inflation vis-à-vis other major economies.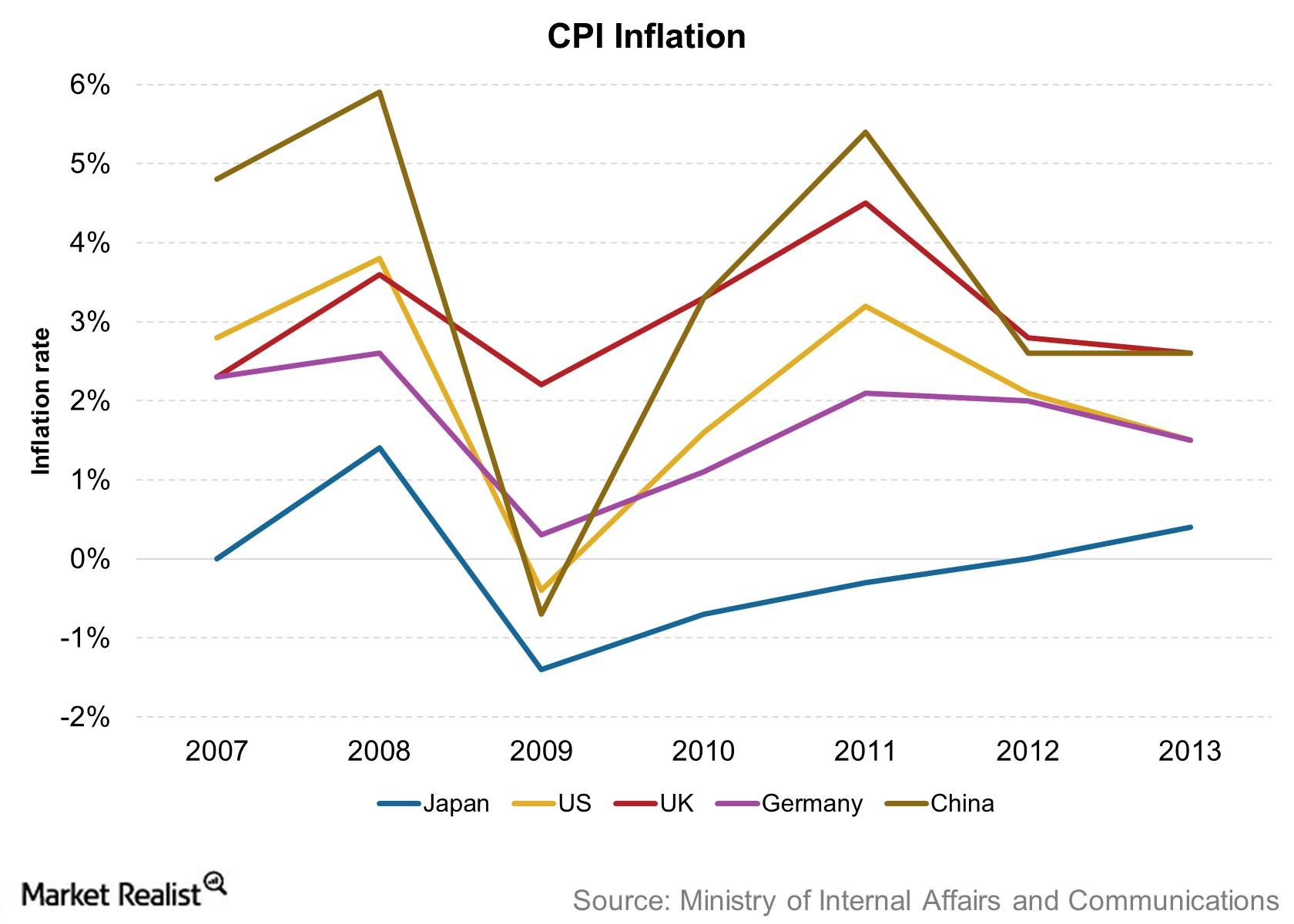 Abenomics, named after Shinzō Abe, is an attempt by the government to get Japan moving again. More an experiment than a well-defined strategy, the policy aims to get Japan back on track by undertaking monetary, fiscal, and structural reforms.
Article continues below advertisement
Tarō Asō explains
Tarō Asō, former prime minster and the deputy prime minister and minister of finance in Abe's government, gave his views on Abenomics.
At a Statesmen's Forum organized by the Center for Strategic and International Studies in April 2013, Asō gave a talk titled "What is Abenomics? Current and Future Steps of Japanese Economic Revival." In it, he said that economic growth was only one agenda of Abenomics. The policy intended to "make Japan a responsible guardian of peace, prosperity and democracy."
Steps to growth
Asō characterized the logic behind the policy as simple and straightforward. He termed the three arrows as "three bazookas"' and outlined the following steps, in order:
The Bank of Japan eases money
The government uses fiscal policies to stimulate real demand
The government introduces a growth package, massive deregulations, and other growth plans, putting the growth on a sustainable orbit.
Explaining the reason behind the unconventional policy, Asō said that "deflation is too much difficult and too much persistent to get rid of, we have to use every possible means."
Abenomics was positive news for Japan-focused exchange-traded funds (or ETFs) (EWJ) (DXJ) as well as ETFs such as iShares MSCI EAFE Index Fund (EFA), Vanguard MSCI EAFE ETF (VEA), and Vanguard FTSE Pacific ETF (VPL), which have more than 20% exposure to Japanese stocks.
In a later article, we'll explore the impact of Abenomics, but first, let's see why Japan has experienced chronic deflation.