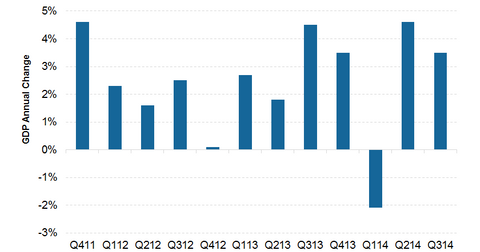 Why was the US Q3 2014 GDP growth better than expected?
By Anuradha Garg

Nov. 27 2019, Updated 2:25 p.m. ET
Why did US GDP increase?
The government's first estimate for US gross domestic product (or GDP), which measures all goods and services produced in the US, had a 3.5% annualized rate between July and September 2014. This exceeds market expectations of a 3.0% growth rate. This was driven primarily due to positive contributions from personal consumption expenditure, nonresidential fixed investment, government spending including defense expenditures, and net exports.
Net exports accounted for about 37.3% of the increase, and falling energy prices largely drove the decline in imports. However, the GDP figure is preliminary and will be revised twice, first in November and again in December.
Better than other developed countries
Article continues below advertisement
US officials also emphasized that the latest GDP figure outpaced those of other advanced countries, reflecting the country's improving labor market and growing oil and gas supply. Consumer spending, which drives two-thirds of the measure, grew by 1.8% in the third quarter, compared with 2.5% in the second quarter. We'll discuss this in detail later in this series.
Reviving hopes of an interest rate hike
The GDP growth figures for Q3, in addition to Q2's growth, creates the strongest six-month period of expansion since 2003. This points to a US recovery, which renewed hopes for an earlier-than-expected interest rate hike by the Fed. The interest rate hike will increase the cost to carry gold. Higher US interest rates, as compared to the rest of the world, will also lead to an inflow of funds into the US dollar, strengthening it even further. This is also negative for gold prices as well as gold stocks, including Goldcorp (GG), Kinross Gold (KGC), Newmont Mining (NEM), and Barrick Gold (ABX). ETFs like Gold Miners Index (GDX), which invest in these gold stocks, would also be negatively impacted. Gold-backed ETFs like SPDR Gold Shares (GLD) would be a definite casualty in that case.