U.S. Steel invokes Carnegie to reclaim lost glory
By Mohit Oberoi, CFA

Nov. 27 2019, Updated 5:09 p.m. ET
U.S. Steel's share price plummeted after global recession
In the previous part of this series, we discussed several problems U.S. Steel Corporation (X) faced after the global financial crisis. The company was losing market share, its operations were losing money, and it was finding it difficult to service its debt. U.S. Steel's share price had plummeted to almost 20% of its peak.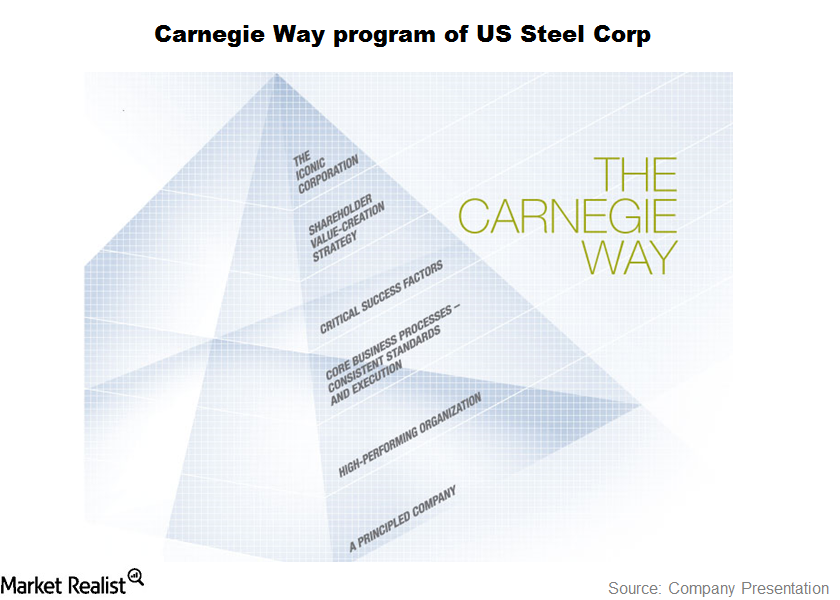 Article continues below advertisement
How transformation began at U.S. Steel
The story of how transformation started at U.S. Steel Corporation (X) is actually quite interesting. In March 2013, Mario Longhi, the current CEO of the company, asked a simple question to a group of company managers. The question was "Who will buy the U.S. Steel stock tomorrow?" Only a few managers reacted positively to this question. Since then, U.S. steel has embarked on an ambitious transformation exercise named Carnegie Way. Please be aware that Andrew Carnegie was a cofounder of U.S. Steel Corporation.
ArcelorMittal (MT) also has a cost rationalization program in place called the Management Gains program.
What is U.S. Steel doing under Carnegie Way?
The previous chart shows U.S. Steel's Carnegie Way. Through a disciplined approach, it is working to strengthen its balance sheet with intense focus on cash flows, improving operational efficiency, optimizing supply chain, and right-sizing its operations. U.S. Steel Corporation has made some hard decisions as part of this exercise.
U.S. Steel expects to better compete with minimills like Nucor (NUE) and Steel Dynamics (STLD). With new-age electric arc furnaces, these companies are tough competitors of U.S. Steel. Currently, all these companies are part of the Standard and Poors depositary receipt (or SPDR) S&P Metals and Mining exchange-traded fund (or ETF).
Let's now look at some of the steps U.S. Steel Corporation has taken under its Carnegie Way program.