A risky bet: Is Arch Coal out of danger yet?
By Mike Sonnenberg

Dec. 3 2014, Updated 8:00 a.m. ET
Quest for survival
Arch Coal (ACI) has over 70% more debt ($5.2 billion) on its books than revenues (around $3 billion) that it's expected to generate in 2014. That's a lot when you consider that most US coal producers (KOL) aren't making money. The strategy that most leveraged coal producers have applied is to build enough liquidity to survive the downturn. To ensure that the liquidity lasts longer, producers are cutting costs to minimize the cash burn.
Coal producers like Arch Coal (ACI), Alpha Natural Resources (ANR), Walter Energy (WLT), and Peabody Energy (BTU) have responded to the tough scenario by taking measures such as idling mines, cutting production, and selling non-core assets.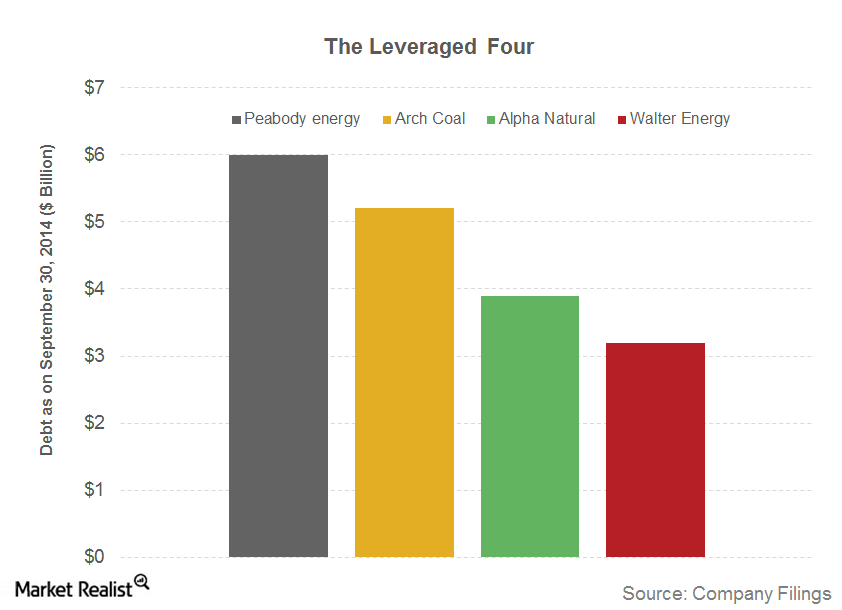 Article continues below advertisement
How far can this go?
While cost saving measures have helped producers reduce costs, coal prices have continued to fall, effectively wiping out the benefit from cost saving. Worse, Arch Coal (ACI) seems to have run out of major cost saving opportunities. The company has trimmed down its operations to low-cost mines. If prices continue to fall, the company may not have any great cost performance to offer.
Arch Coal expects to burn another $200 million in 2015. So the liquidity position may drop to below $1 billion from the current $1.3 billion if prices remain unchanged. With a $1.8 billion repayment coming up in 2018, the company will have just over two years to make enough money to service the debt, refinance, or face tough decisions like asset sales or bankruptcy.
On a positive note
On a positive note, the company is well diversified and has a large presence in the Powder River Basin. The outlook for US and European steel manufacturers looks encouraging for the company's metallurgical coal business. The company is also focusing on PRB exports into Asia. For that purpose, the company has opened offices in Singapore, Beijing, and Hong Kong. But the future of exports largely depends on the future of the Millennium Bulk Terminals Longview project, which is jointly owned by Ambre Energy and Arch Coal.
Bottom line
For now, Arch Coal looks like a risky bet. Recovery in coal prices is essential to pull the company out of danger. It's already tried most of other options, including cost-cutting and asset sales.