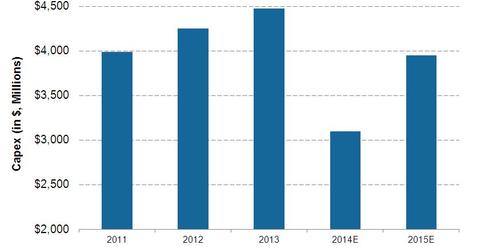 Why investors should watch EPD's falling capex and higher debt
By Alex Chamberlin

Updated
Capital expenditures
Enterprise Products Partners (EPD) noted in its 3Q14 10-Q that it scaled down its capex plan for 2014 to $3.5 billion—from $3.7 billion planned by the end of 2Q14. This excludes the $4.6 billion Oiltanking Partners (OILT) acquisition. It includes $350 million of sustaining capital expenditure.
EPD announced the OILT acquisition on October 1, 2014. Read our article on "Enterprise Products Partners acquires Oiltanking Partners" to learn more.
Now, EDP expects growth capital expenditure for 2015 to be $3.7–$4.2 billion.
Liquidity and acquisition funding
On September 30, 2014, EPD had liquidity of ~$4.8 billion. This included $1.1 billion of unrestricted cash and ~$3.7 billion of available borrowing capacity under its credit facilities.
In October, EPD issued $2.75 billion in senior unsecured notes. EPD raised the money in connection with funding $2.4 billion of cash consideration that EPD paid in the Oiltanking transaction. As a result, EPD's long-term debt increased to $17.7 billion on September 30. This is 9.1% higher than it was at the beginning of the year.
EPD's net interest expense increased by $75 million in the first nine months of 2014—compared to the same period in 2013. This was mainly due to the higher debt level.
For more discussion on EPD's growth financing plans, read our article "Enterprise Products Partners' growth rate."
Key stocks and exchange-traded funds (or ETFs)
Kinder Morgan Energy Partners (KMP), Energy Transfer Partners (ETP), and Plains All American Pipeline (PAA) are some of the other major master limited partnerships (or MLPs) operating in the midstream energy sector.
All of these companies are part of the Alerian MLP ETF (AMLP). KMP's long-term borrowing increased 2.8%. PAA's long-term borrowing increased 8.5%. ETP's long-term borrowing increased 7.3% in 3Q14—compared to 3Q13.