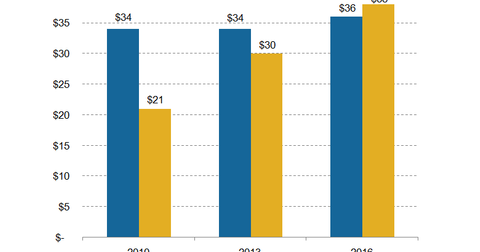 Why the cloud is a boon for SanDisk's NAND flash growth
By Anne Shields

Updated
Cloud emergence has opened growth opportunities for SanDisk's NAND flash storage
The technology market is working frantically to respond to the emergence of the cloud. Big data has contributed significantly to consumer's rapidly changing preferences, consequently leading to shorter product life cycles. However, for SanDisk's (SNDK) NAND flash storage, cloud storage has opened up a plethora of opportunities, as cloud storage is completely dependent on flash drives to be super fast.
The traditional IT models of companies with huge enterprise infrastructure are finding it difficult to be responsive to the rapidly changing technology environment. To be responsive, these companies have to depend on SSD storage.
Also, a lot of web 2.0 customers like Apple (AAPL) and Amazon (AMZN) rely on extremely responsive storage backend. It is the flash that lets the customer see a video streaming over very fast and even over low bandwidths. Flash is ~100 times faster than hard disk drives (or HDDs).
An increase in SanDisk's growth is likely to benefit ETFs like the PHLX SOX Semiconductor Sector Index Fund (SOXX), and the SPDR S&P 500 ETF (SPY) that have significant exposure to SanDisk.
According to SanDisk the Total Addressable Market (or TAM) for NAND flash is expected to grow at a CAGR (compound annual growth rate) of around 8% from 2013 to 2016 as the above chart shows.
Huge demand for memory space by mobile companies to push revenue growth
According to the president and CEO of SanDisk, Sanjay Mehrotra, "Demand for NAND flash continues to be strong across mobile, client and enterprise, where SanDisk's innovations are creating significant opportunities."
NAND flash does not require power to retain data and thus it works well for devices like smartphones and tablets that frequently upload and replace large files. Quick-boot laptops and ultra books are also adopting NAND flash.
Article continues below advertisement