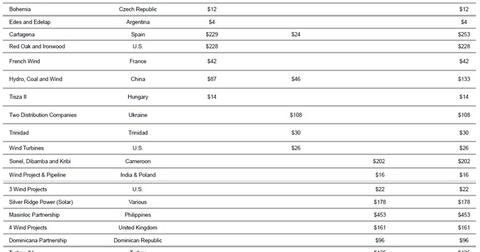 AES to complete exit of 9 countries by 2015
By Matt Phillips

Updated
Disadvantage of scattered businesses
The power utility business is essentially one that thrives on economies of scale. In economies of scale, the per-unit production cost decreases as operational size or unit output increases.
AES Corporation (AES) has operations in 20 countries across five continents. This does not help the company achieve an economy of scale. In recent years, AES has exited many locations in order to streamline its portfolio.
Article continues below advertisement
Shuts business in multiple countries
Over the last three years, AES has been trying to realign its assets across various geographies. In September 2011, management announced asset sales totaling $2.4 billion. The company also revealed its plans to exit nine countries, including the following nations:
France
Spain
Hungry
Czech Republic
Ukraine
Turkey
The nine countries do not represent core operational regions, and they hold limited competitive advantage for AES. The company expects to complete its exit from these countries by next year.
Recent asset sales
In 2014, AES sold assets in the following countries:
Philippines – $435 million
Cameroon – $153 million
UK – $156 million
Dominican Republic – $78 million
US – $27 million
India – $8 million
Center Point Energy (CNP), DTE Energy (DTE), First Energy (FE), and most other US-based power companies operate mainly within the US. Along with AES, a number of these companies are part of the Utilities Select Sector SPDR (XLU).