The acquisition
Encana Corp. (ECA) describes its $5.93 billion acquisition of Athlon Energy (ATHL) as its "transformational entry into the Permian Basin." ECA decided to buy ATHL because of its strong presence in the Permian Basin.
Let's find out why the Permian Basin is so important to ECA.
Article continues below advertisement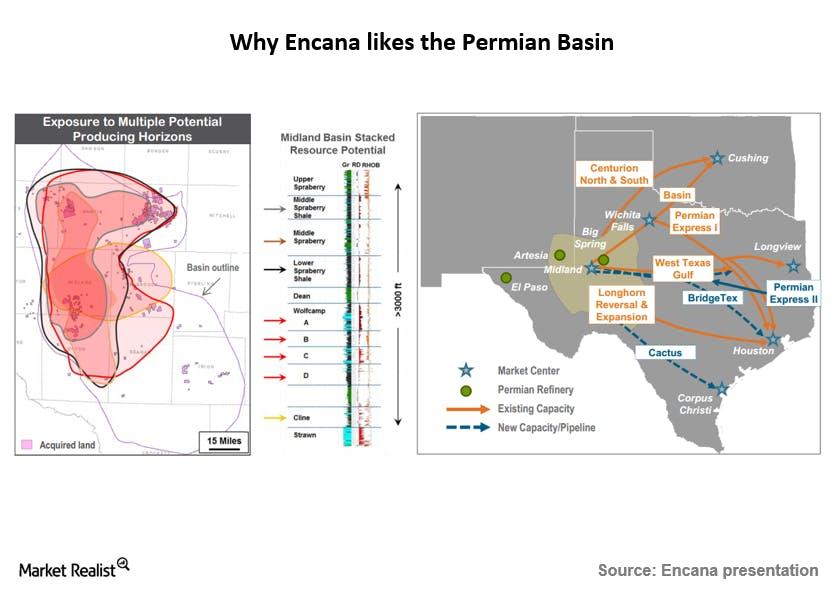 The Permian Basin
The Permian Basin is now the largest oil producing area in the U.S. It passed the Gulf of Mexico this year. Crude oil production from the Permian Basin has doubled from ~850,000 barrels per day (or bpd) in 2007 to ~1.7 million bpd today.
Also, the Permian Basin provides ECA with the opportunity to drill up to 11 stacked formations. Combined with ECA's plans to boost horizontal drilling, this would explain its bullish resource estimates.
So, the Permian Basin's characteristics are critical to ECA's estimates of how many horizontal wells it can drill. It's also critical to how much of the assets' resources it can access and produce.
ECA expects the infrastructure constraints—that have been keeping Permian oil and gas prices lower compared to West Texas Intermediate (or WTI) at Cushing, Oklahoma—to be alleviated soon. The constraints will be alleviated with the addition of ~800,000 bpd of pipeline capacity by the end of 2015.
It also expects the growth of its export capacity to outpace production growth in the years to come.
Check out our guide to investing in the Permian Basin here.
Summary
The acquisition is a two-year leapfrog for ECA. It planned to earn ~75% of its operating cash flows from higher margin liquids by 2017. It will now be able to do this by 2015.
It also means ECA is substantially closer to its goal of having ~50% of its production mix consisting of high value liquids by 2017—from barely ~10% now.
ECA acquired similar liquids rich, producing assets in the Eagle Ford from Freeport-McMoRan (FCX) in May. We'll discuss this more in Part 9.
Encana President and CEO, Doug Suttles summed up the latest deal. He said "We're delivering on the portfolio promises we made for 2017, today…"
Key exchange-traded funds (or ETFs)
ETFs are a great way for investors to gain diversified access to the booming U.S. energy sector. These include the Energy Select Sector SPDR (XLE) and the iShares Dow Jones U.S. Energy Sector ETF (IYE).