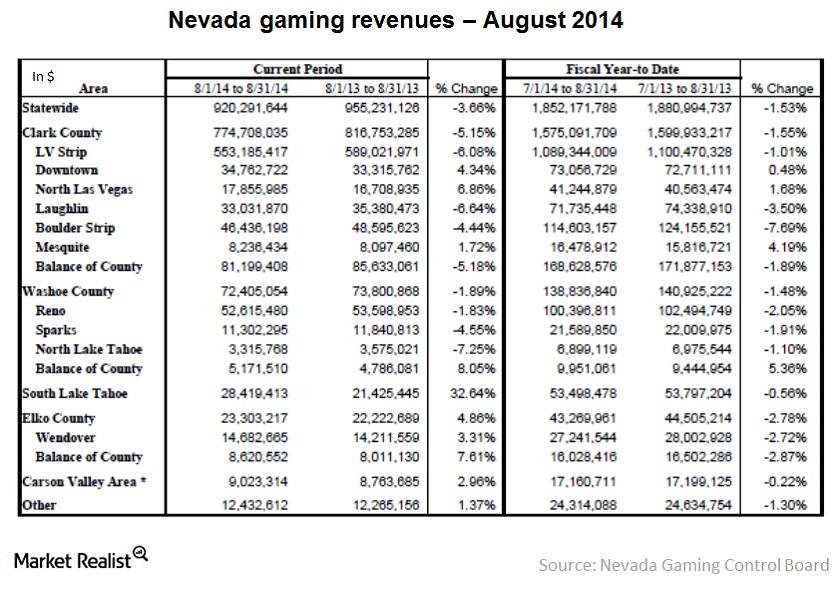 Why Nevada's gaming revenue release for August 2014 is important
By Shawn Bolton

Nov. 20 2020, Updated 4:52 p.m. ET
Results outlook
While Macau is facing its own problems, fundamentals in Las Vegas don't look good either. According to the State of Nevada Gaming Control Board, August 2014 data showed that Nevada's gaming revenue fell 3.7% year-over-year (or YoY) to $920 million. The revenues were negatively impacted. They were mainly impacted by the drop in winnings on the Las Vegas Strip.
Major casino players in Nevada include Las Vegas Sands (LVS), Caesars Entertainment (CZR), Wynn Resorts (WYNN), and MGM Resorts (MGM). A better way to invest in these companies is to get exposure through an exchange-traded fund (or ETF) like the Consumer Discretionary Select Sector SPDR Fund (XLY).
Key performance indicators
The above chart shows that the revenue on the Las Vegas Strip was $553 million—down 6.1% YoY. Downtown revenue was $35 million—up 4.3% YoY. Reno gambling revenues were $53 million—down 1.8% YoY. South Lake Tahoe was up 33% YoY to $28 million.
Article continues below advertisement
Revenues generated from high-end Baccarat declined. This negatively impacted the Las Vegas Strip's revenue. Revenue from Baccarat fell by 14% on the Strip. This was due to a decline in the hold percentage from Baccarat. The holding percentage is the portion of money gambled. It's retained by the casino.
Baccarat plays a significant role in gaming win for the state. Last year, most of the Nevada's 5% revenue increase was driven by an increase in the Baccarat hold. Wagering on Baccarat was up 3.2% last year.
Fee collections
Nevada collected $51 million in fees—down 1.3% YoY during September 2014. The was through September 24, 2014. It was based on the taxable revenues generated in August 2014.
In the next part of the series, we'll discuss the condition of Las Vegas' lodging market.