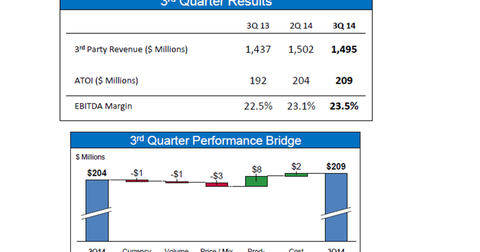 Why engineered products generated record profits for Alcoa
By Mohit Oberoi, CFA

Updated
Alcoa's engineered products
We looked at the global rolled segment's third quarter performance in the last part of the series. Now, we'll analyze the performance of Alcoa's (AA) engineered products segment.
Engineered products and services form Alcoa's downstream operations. It's Alcoa's most profitable segment. The segment's earnings before interest, taxes, depreciation, and amortization (or EBITDA) margin hit a record high of 23.5% in the third quarter. Alcoa's EBITDA margin was 16.5% in the third quarter.
Alcoa reports the 18th consecutive quarter with profit growth
Article continues below advertisement
The third quarter marks the 18th quarter that Alcoa reported an increase in after-tax operating income (or ATOI) in engineered products. This is on a year-over-year (or YoY) basis. The ATOI was up 9%—compared to 3Q13. This was a result of the strength in the aerospace, commercial transportation, and construction markets. In this segment, the $8 million gains in the third quarter also increased productivity.
Alcoa's transformation focused on engineered products. In Part 4 in this series, we discussed the various initiatives that Alcoa has taken in this segment. The segment's value-added products sell at higher prices than primary aluminum. Along with Alcoa, Kaiser Aluminum (KALU) and Constellium (CSTM) also have value-added operations. These value-added operations are also known as aluminum fabrication.
Companies like Century Aluminum (CENX) don't have these fabrication operations. You can learn more about various aluminum companies' business strategies and how it impacts their profits here.
Other key highlights
We've discussed the financial performance of Alcoa's three business segments. Investors should watch a company's profitability. Investors should also watch a company's cash flows and leverage ratios. In the next part of the series, we'll discuss how Alcoa performed on these key metrics in the third quarter.
Currently, Alcoa is among the top ten holdings of the SPDR S&P Metals and Mining ETF (XME).