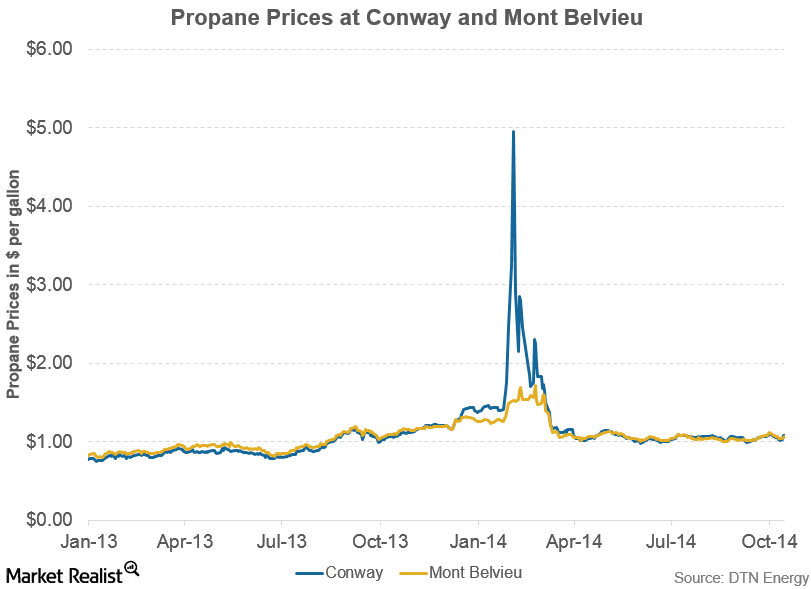 Why weather is a wild card for propane prices
By Keisha Bandz

Oct. 23 2014, Updated 5:00 p.m. ET
Natural gas liquids
Propane is a natural gas liquid, or NGL. NGLs are hydrocarbons—in the same family of molecules as natural gas and crude oil. Other NGLs include ethane, butane, and pentane. Propane and ethane, in particular, are both important feedstocks for chemical plants.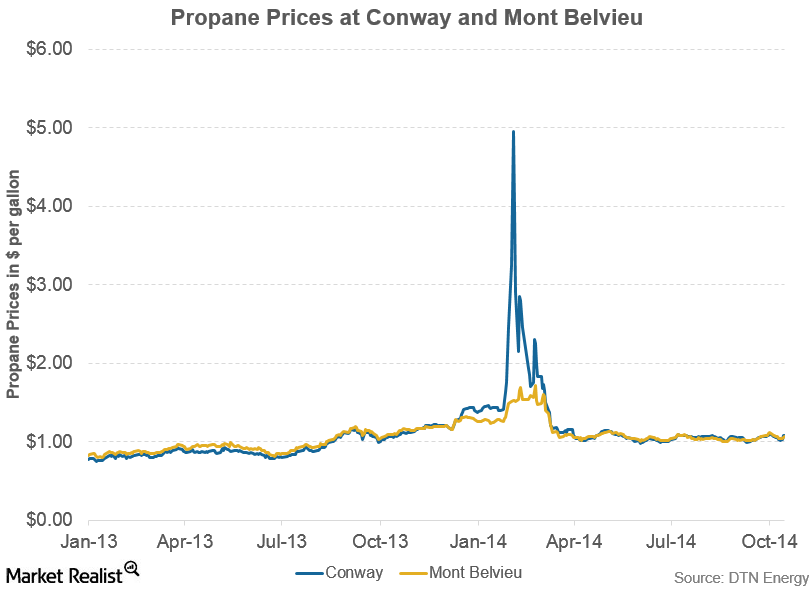 Propane prices
Last winter, propane prices spiked as inventories saw record lows thanks to the severe winter. Prices reached a record high of ~ $5 per gallon last winter, as the graph above shows.
Propane prices affect propane distributors such as Ferrellgas Partners L.P. (FGP), Suburban Propane Partner LP  (SPH), AmeriGas Partners, L.P. (APU), and NGL Energy Partners LP (NGL). Most of these companies are components of the Global X Funds ETF (MLPA).
Propane inventories
U.S. propane stocks increased by 0.7 million barrels to 81.4 million barrels as of October 10. They are now 22.4 % higher than year ago levels.
Gulf Coast inventories increased by 0.2 million barrels, and East Coast inventories were up by 0.3 million barrels. Rocky Mountain and West Coast inventories, and Midwest inventories both increased by 0.1 million barrels.
Outlook for propane demand
The U.S. Energy Information Administration, or EIA, expects households in the Midwest will spend 34% less than last winter. This is a result of prices being ~24% lower. Also, consumption will be 13% lower than last winter.
Households in the Northeast are expected to spend 13% less this winter. This reflects ~5% lower prices than last year. Consumption will be ~9% lower than last year.
Weather: An important game changer
Last year, propane prices spiked as a result of a shortage in propane inventories. Propane shortages depend on the severity of the weather.
Article continues below advertisement
Also, farmer demand for the fuel to remove moisture from their corn harvests can lead to shortages. Corn harvesting starts in October and ends in November. Considering the significant amount of corn production this year, some propane could be used up before the winter starts. The amount of propane used up will impact propane's price when winter arrives.
Learn Why a warmer winter could sap propane demand.
Peak-demand season is still months away. However, an analysis of propane inventory levels provides insight into the emerging supply scenario, and how propane prices could be impacted.