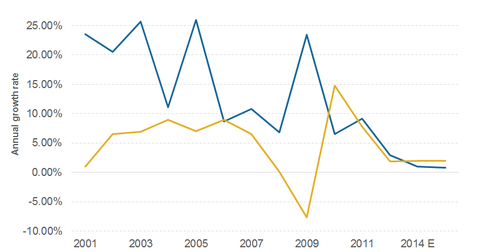 Must-read: Worldsteel revises Chinese steel consumption forecast
By Mohit Oberoi, CFA

Updated
Slowdown in Chinese steel consumption
Previously in this series, we examined the World Steel Association's growth forecast. It's expected global steel consumption will grow by only about 2% this year. The biggest contributor to this slowdown is China, a country that alone accounts for almost half of all steel consumption. If the forecast is realized, this would mark only the second time in a decade that Chinese steel consumption grew at a slower rate than rest of the world.
Is China entering a prolonged slowdown?
Article continues below advertisement
The chart above shows China's annual growth rate of steel consumption. As you can see, China's growth rate was in the double digits until 2008. Even during the global financial crisis, Chinese steel consumption increased, mainly due to infrastructure expansion. China built massive infrastructure for the 2008 Olympics. Subsidies from the Chinese government also boosted the country's steel industry.
Since 2009, steel consumption has slowed in China. Chinese steel consumption is expected to grow at 1% this year, and at 0.8% in 2015. This slower consumption rate is not a healthy sign for global steel markets.
You can read more about the Chinese steel markets, and the factors influencing the current slowdown in Market Realist's series, Must-know: Why the Chinese slowdown impacts steel companies.
How the Chinese slowdown impacts U.S. investors
So what does the slowdown in China means for U.S. investors? How will the slowdown impact steel producers such as ArcelorMittal SA (MT), United States Steel Corporation (X), AK Steel Holding Corporation (AKS), Nucor Corporation (NUE), and Commercial Metals Company (CMC)? How will it affect the SPDR S&P Metals and Mining ETF (XME)? We'll look for answers, next.