What must the ECB do to repair the Eurozone's financial sector?
By Surbhi Jain

Nov. 26 2019, Updated 1:12 p.m. ET
Banking dominates the financial sector in Europe
Much of financial intermediation in Europe, about 80%, takes place through banks. Bank lending is also key to the SME (small and medium-term enterprises) sector that accounts for two-thirds of private sector employment in Europe. Moreover, the effectiveness of monetary policy and the efficiency of resource, or credit, allocation in the economy comes to depend on the banking sector.
Article continues below advertisement
Top banks in Europe, including HSBC Holdings (HSBC), Deutsche Bank (DB), and Barclays (BCS), are actively tracked by U.S. listed exchange-traded funds like the iShares MSCI Europe Financials ETF (EUFN). Major European ETFs like the iShares MSCI EAFE (EFA), the iShares MSCI EMU (EZU), and the Vanguard FTSE Europe ETF (VGK) also have the majority of their portfolio allocation towards financial services equities.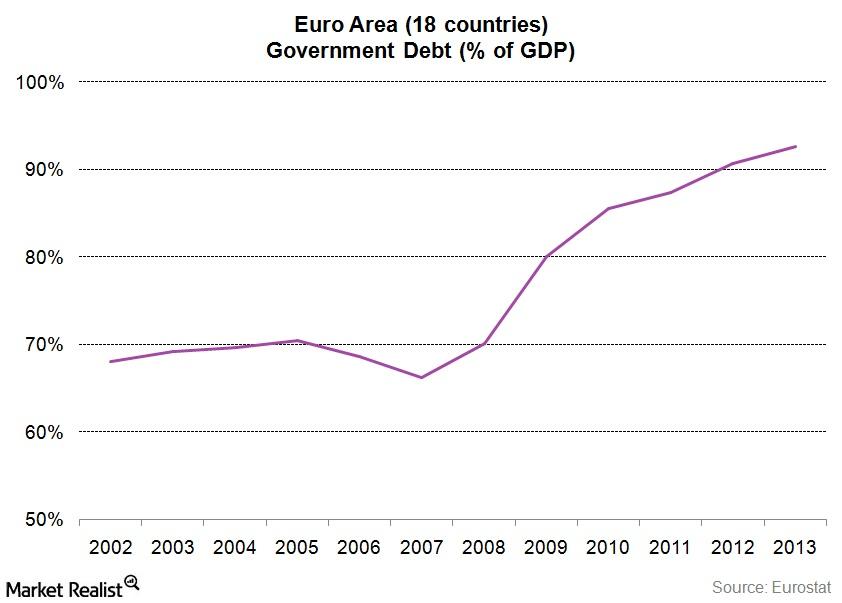 Deleveraging and a strengthened balance sheet
Currently, banks in Europe are engaging in an unavoidable and rapid deleveraging process, an expected repercussion of the credit bubble. Now that deleveraging their balance sheet is a bank-specific initiative, the ECB (European Central Bank) cannot influence its scale. However, it can intervene to influence its form, which is the way these banks choose to dispose of unwanted assets and raise equity.
Article continues below advertisement
It was in this context that the ECB carried out a comprehensive assessment of banks' state of health, before admitting them into direct European supervision. Since the summer of 2013, the banks that fall under ECB's direct supervision have strengthened their balance sheets by almost 203 billion euros.
The current agenda
However, the ECB does realize that with a large rise in corporate bond issuance, which is funding mostly large corporates and not SMEs, smaller firms may face obstacles accessing finance as the European banking sector cleans up.
It has therefore become imperative that ECB's policies to repair the banking sector be accompanied by policies to develop capital markets. For the ECB, the need of the hour is to support a more diversified financing mix in favor of redeveloping markets for asset-backed securities. This will provide a way for smaller, bank-dependent firms and households to access finance from non-bank investors.