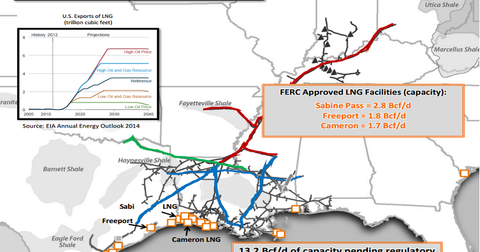 Why midstream companies could profit from LNG exports
By Keisha Bandz

Updated
Not just Cheniere
Everybody knows about the Cheniere Energy, Inc. (LNG) liquified natural gas, or LNG, export story. But investors must not miss out on another segment that is also likely to profit.
Midstream industry
A significant amount of gas will be produced in close proximity to Cheniere's export terminals. Meanwhile, the company will still be required to transport gas from the production regions to its facilities.
Article continues below advertisement
This means midstream energy companies, with operations close to those regions, will be able to step in and transport gas through existing pipeline systems. This represents a major opportunity for a company such as Boardwalk Pipeline Partners, LP (BWP) to transport more gas through its pipeline systems.
Boardwalk has pipelines in ideal locations to facilitate transportation between production in the Haynesville and Fayetteville Shale areas and Cheniere's Sabine Pass facility.
As a result, midstream companies are likely to capitalize on the LNG export boom without having to also construct facilities. And, if the Department of the Environment approves more licenses, midstream companies near natural-gas-producing regions might see more business from potential LNG producers.
Read more about proposed liquified natural gas facilities.
Meanwhile, midstream companies are planning to build LNG facilities. Master limited partnership company Energy Transfer Partners, or ETP's, Lake Charles LNG export facility is already pending approval. The facility is slated to come online in 2020.
For more, check out Market Realist's primer on Master limited partnership (MLP) basics.
As in ETP's case, competing for the LNG export market share is going to take a while, with or without facilities. Applying for government permits is a lengthy process. So, by the time any other facilities come online, Cheniere's facilities will already be in place. And, Cheniere is likely to enjoy its front-of-the-line advantage for a little while longer.
Key ETFs
Cheniere is a component of the Vanguard Total World Stock Market ETF (VT), Global X MLP & Energy Infrastructure ETF (MLPX), and the iShares Dow Jones US Energy Sector ETF (IYE).
Learn more about this topic by reading Market Realist's Must-know: An overview of Energy Transfer Equity.