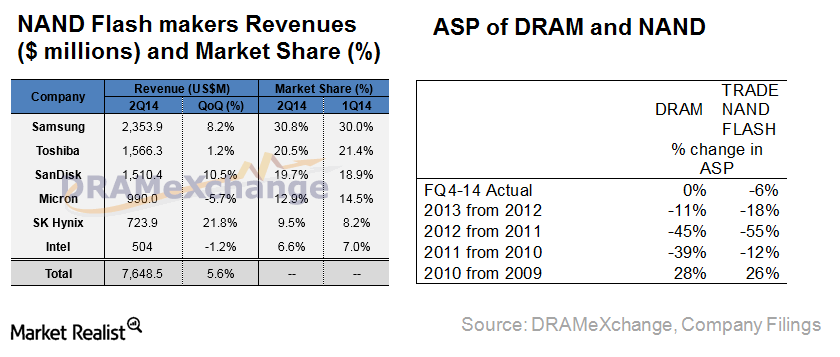 Why memory product selling prices could impact Micron's stock
By Anne Shields

May. 3 2021, Updated 10:38 a.m. ET
Intense competition in DRAM and NAND market
As mentioned earlier in the series, three firms—Samsung Electronics Ltd (SSNLF), SK Hynix Semiconductor (HXCSF), and Micron Technology, Inc. (MU)—account for 91.6% of market share.
Samsung  launched 3D NAND to replace its old NAND. It's now producing DDR3 using 20nm technology, giving the company the upper hand over its peers in productivity cost and energy efficiency. The competition is increasing at a fast pace. Because the market is concentrated among three players, Micron's operations will be impacted if it's slow to adjust to the changing climate in DRAM prices.
Article continues below advertisement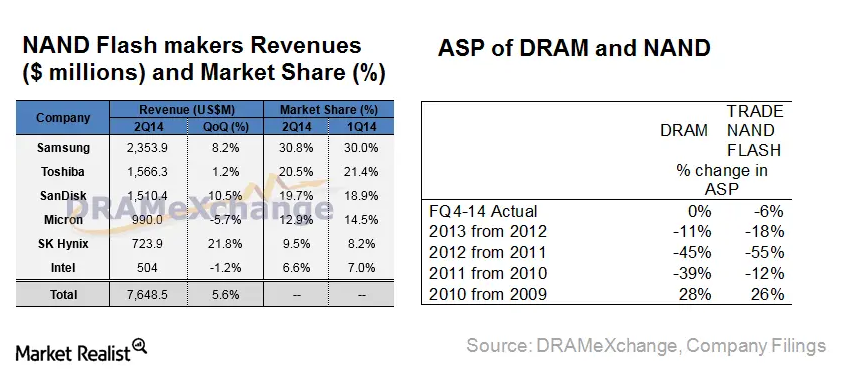 Samsung, Toshiba Corp. (TOSBF), and SanDisk Corporation (SNDK) are leading players in the NAND segment. Micron's NAND position is comparatively weaker in this segment than in the DRAM market. As the chart above shows, it lost market share in recent quarters. NAND's contribution to Micron's overall revenue also decreased in fiscal 2013 compared to fiscal 2012. In 3Q14, NAND formed only 28% of the overall revenues compared to 40% in 3Q13.
Meanwhile, in absolute terms, NAND revenue has grown. But with strong NAND players in the market, Micron's growth in this segment could be challenged and even hampered.
Fall in average selling price of Micron's NAND and DRAM products 
As the chart above shows, recent price falls have been less than in previous years. With few players and increased production, chip prices have fallen, which has benefited both Micron's NAND and DRAM segments. Meanwhile, the risk that average selling prices of Micron's memory products fall relative to its manufacturing costs poses a real concern. If prices fall faster than the company can reduce manufacturing costs, its margins will suffer. As a result, Micron's share prices will be affected.
Semiconductor industry is capital intensive
The semiconductor industry requires huge investments, making it a capital-intensive industry. On average, equipment needs to be replaced each three to five-year time period. In 4Q14, Micron's capital expenditures were $1.32 billion. It aims for $3.6-4 billion in capital expenditures in 1Q15.
Micron has witnessed strong cash-flow growth recently. Yet because of the heavy capital expenditures required to sustain its operations—and the cyclical nature of technology replacement—the company's profitability is at the mercy of flash memory and DRAM prices.