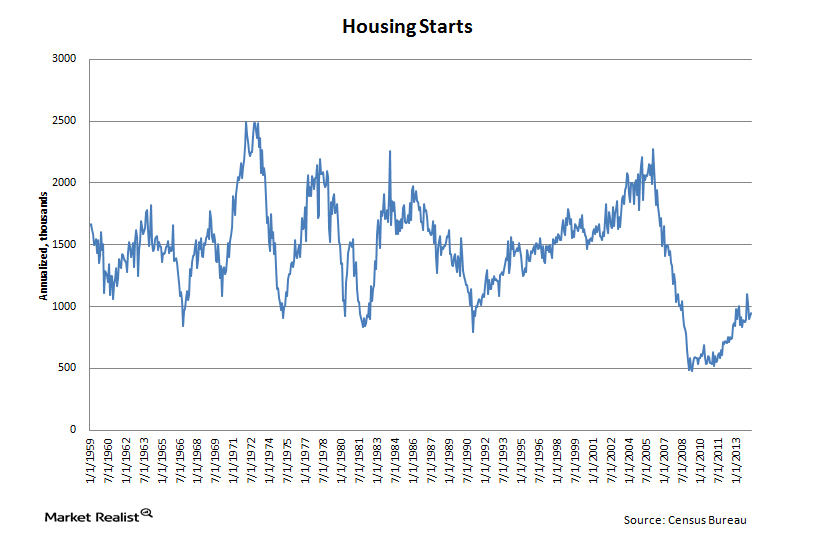 Toll Brothers and the road ahead for the homebuilding sector
By Brent Nyitray, CFA, MBA

Sep. 5 2014, Updated 9:00 a.m. ET
How much growth is ahead for the homebuilders?
It's important to remember that housing starts are still highly depressed compared to historical norms. From the late 1950s through 2002, we averaged 1.5 million starts a year. During booms, it would top 2 million and during the depths of recessions, it would hit maybe 900,000. We recently had housing starts of an annualized pace of 1.1 million and haven't seen normal housing start numbers since 2007–2008.
Simply put, homebuilding is rebounding from a very depressed low, and that rebound will not only drive Toll Brothers (TOL), but will also affect all of the other builders, like Lennar (LEN), PulteGroup (PHM), D.R. Horton (DHI), and Standard Pacific (SPF).
Valuation and outlook
With the acquisition of Shapell, Toll Brothers looks well-positioned for growth going forward.
Article continues below advertisement
The secular (long-term) story for the builders is fantastic. We have underbuilt for over a decade and household formation has been depressed. The low household formation numbers of the post-bust environment weren't due to fertility rates 25 years ago. They were due to young graduates who have been unable to find a job in this economy.
As we've seen from the recent economic data, the labor market is turning around—albeit slowly. This represents pent-up demand that will unleash. In previous upturns, we've seen housing starts over 2 million units a year. It's not inconceivable that housing starts could triple over the next few years. That's a lot of growth.
What's the catch? Toll is trading at a very high multiple of 21x 2014 earnings. That multiple is discounting a lot of growth. One thing to remember with builders is that they're very cyclical. During boom times, they'll trade at mid to high single-digit price-to-earnings ratios. So you could end up being absolutely correct about future earnings only to find that multiple compression negates that growth as the stock goes nowhere.