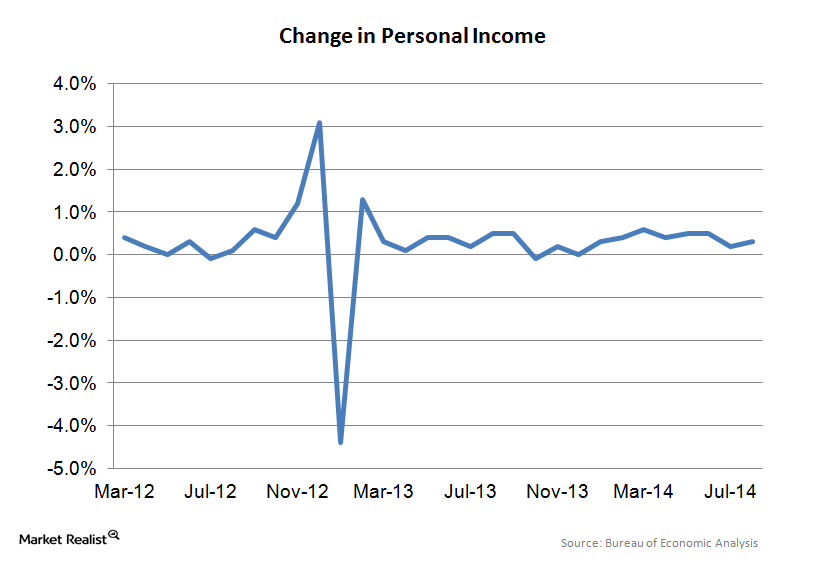 Surprise! Personal incomes jump in August—good for the mall REITs
By Brent Nyitray, CFA, MBA

Sep. 30 2014, Updated 2:31 p.m. ET
Personal income is part of the "Income and Outlays Report" put out by the Bureau of Economic Analysis
Personal income is the income a person receives from all sources. This includes wages and salaries, government transfer payments, other labor income, proprietor's income, and rental income. Increases in personal income drive consumption, which accounts for roughly 70% of the U.S. economy. Personal incomes dropped precipitously during the Great Recession, and it took over two years for incomes to return to their previous highs.
Article continues below advertisement
Personal income increased $47.3 billion, or 0.3%, to reach $14.9 trillion in August 2014. Disposable personal income (or DPI) increased $35.2 billion, or 0.3%, from July. In case you were wondering about the big spikes in the chart above, those were due to the acceleration of bonuses and personal dividends to 2012 in anticipation of increased taxes in 2013.
Wages and salaries increased $30.4 billion in August compared to an increase of $17.4 billion in July. Proprietors' income decreased by $9.7 billion in August after decreasing $9.8 billion in July. Rental income increased by $6.3 billion compared to an increase of $2.7 billion last month. The rental boom has continued to benefit incomes. Income on assets decreased by 0.2 billion as well.
We need to see more wage inflation to see growth
Historically, consumption and incomes correlated at around a 50% level. Today, incomes and consumption correlate at something like 95%. This means that in order to see any real GDP growth, we need to see real income growth. That has been difficult to come by with so much slack in the labor market. Increasing incomes will drive consumption, which will benefit commercial REITs such as Simon Property Group (SPG), General Growth Properties (GGP), Taubman Centers (TCO), CBL and Associates (CBL), and Macerich (MAC).
Lack of wage growth will probably keep the Fed at bay
The Fed has been reluctant to raise rates until inflation hits the Fed's target. Does that mean wage increases of 2% are inflationary? Not necessarily, because you have to take into account productivity. This means wages have to rise closer to 5% before we start seeing inflationary pressures on the wage side.