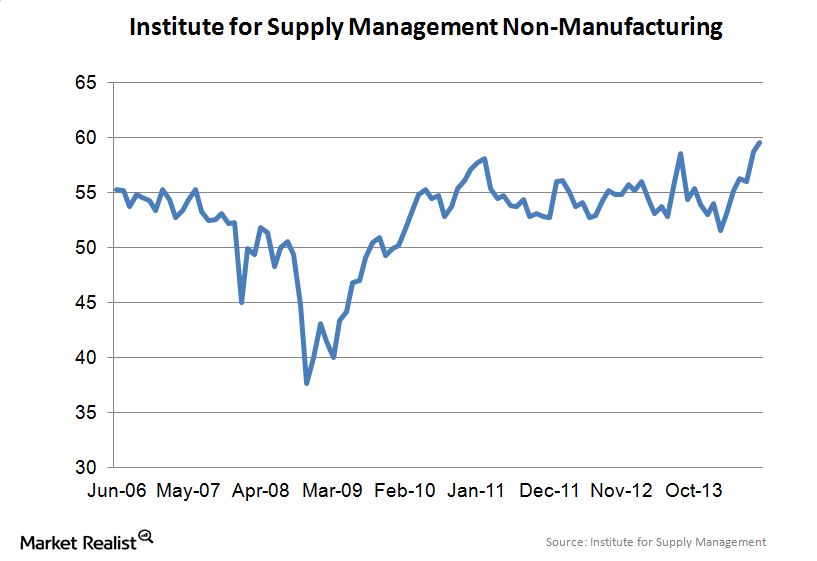 Services activity hits a record in August, supporting office REITs
By Brent Nyitray, CFA, MBA

Sep. 8 2014, Updated 9:00 a.m. ET
The ISM Non-manufacturing Index assesses the state of non-manufacturing business in the U.S.
The Institute of Supply Management (or ISM) Purchasing Manager's Index (or PMI) is similar to the other regional PMI indices, but it covers the entire country. It's the sister index to the ISM Manufacturing Purchasing Manager's Index. The non-manufacturing ISM looks at various business indices, like new orders, production, employment, supplier deliveries, inventory, customer inventories, prices, backlog, exports and imports, and capital expenditures. A reading over 50 means the sector in question is generally expanding.
Office real estate investment trusts (or REITs) like Boston Properties (BXP), Kilroy (KRC), Vornado (VNO), SL Green (SLG), and Highwoods (HIW) are particularly affected by the services sector.
Services activity accelerated in August in tandem with the ISM Manufacturing Index
Article continues below advertisement
The index showed that overall activity in the non-manufacturing sector increased for the 55th consecutive month, and the rate of growth is accelerating. The overall index rose 0.9 percentage points to 59.6 in August from 58.7 in July. The business activity index jumped to 65% and the employment index increased from 56 to 57.1. The reading of 59 was the highest ever recorded for the index since its inception in early 2008.
Expansion was reported in 15 of the industries. The best-performing sectors were construction, retail, and management or support services. Only two industries—arts and entertainment as well as mining—reported decreases.
It remains to be seen how Obamacare will affect corporate cost structures going forward.
Some key quotes from the survey
"Local business, and thus lending activity, is picking up." (Finance & Insurance)

"New orders, project business and backlog remain robust. Internal investment in capital remains positive." (Wholesale Trade)

"Business is holding steady with orders increasing slightly. The rest of 2014 should show some slight growth. International orders have been slow to match U.S. growth but appear to be increasing slightly as well." (Professional, Scientific & Technical Services)

"Year-over-year same store sales up approximately 4 percent resulting in continued store remodeling, new construction and upgrades." (Retail Trade)