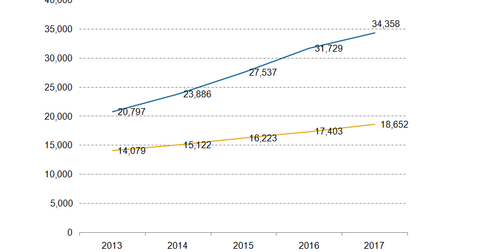 Salesforce acquired RelateIQ to boost its presence in "big data"
By Anne Shields

Updated
RelateIQ acquisition
In July 2014, Salesforce.com (CRM) announced the acquisition of RelateIQ—a relationship management software startup—for ~$390 million. The acquisition is expected to close in October 2014. Gartner expects customer relationship management (or CRM) to be a $36.5 billion market by 2017.

The previous chart compares the relative growth of CRM, ERP, Business Intelligence (or BI), Supply Chain Management and Web Conferencing, and Collaboration/Social Software Suites. It shows that among all the enterprise software revenue categories, CRM leads the projected growth.
RelateIQ offering to boost existing Salesforce CRM
Article continues below advertisement
RelateIQ has developed a "relationship intelligence platform" that's built to pull data from multiple applications—like LinkedIn (LNKD), Facebook (FB), Microsoft Office 365 (MSFT), and Gmail (GOOGL). By collecting data from various sources, it integrates and pieces them together. This makes it a valuable source of information for salespeople. It helps them stay on top of conversations with their contacts and leads.
The RelateIQ relationship intelligence platform uses data science to sift through unstructured data from emails, social networks, and calendars. It automates large portions of the sales process. It provides insights in real time. Using natural language processing, the platform analyzes communications. It tries to answer the important questions that influence a sales department—like whether a deal is won or lost, or which potential customer should be contacted by a salesperson.
Acquisition to boost Salesforce.com's presence in "big data"
RelateIQ's relationship intelligence platform works independently. It eliminates data entry. It doesn't require human interaction to capture and analyze unstructured data coming in different formats—like audio, video, and emails— from various sources. Through its CRM offerings, Salesforce pioneered the trend towards enterprise cloud computing. RelateIQ's acquisition is significant for Salesforce.com. It brings data intelligence to the company's CRM offerings. It strategically places Salesforce in the "big data" space.