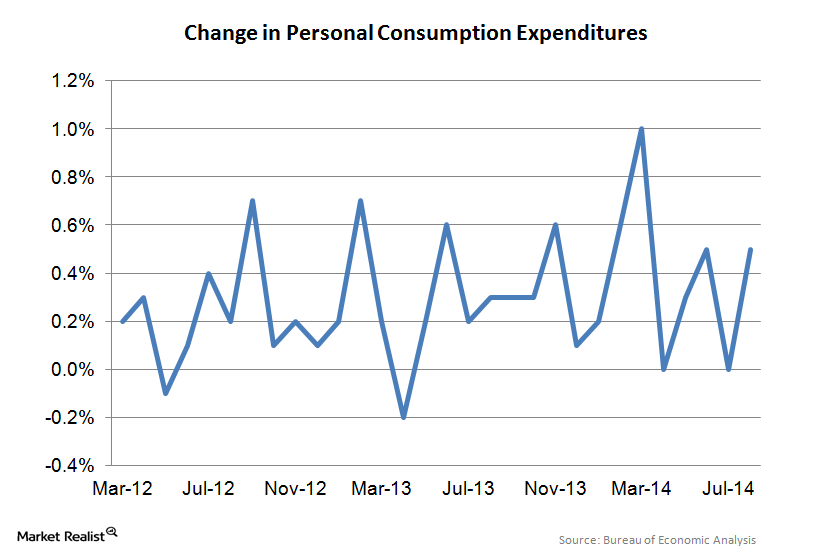 Personal consumption jumps in August: We are spending money again!
By Brent Nyitray, CFA, MBA

Dec. 4 2020, Updated 10:53 a.m. ET
Personal spending is part of the "Income and Outlays Report" put out by the Bureau of Economic Analysis
Personal income is the income a person receives from all sources. This includes wages and salaries, government transfer payments, other labor income, proprietor's income, and rental income. Increases in personal income drive consumption, which accounts for roughly 70% of the U.S. economy. Personal incomes dropped precipitously during the Great Recession, and it took over two years for incomes to return to their previous highs.
Highlights of the report
Article continues below advertisement
Personal consumption expenditures increased $57.5 billion, or about 0.5%, in August after a flat July. Personal outlays (the sum of personal consumption expenditures, personal interest payments, and personal current transfer payments) increased by $60.4 billion in August compared to an increase of $23.6 billion in July.
Personal savings (disposable personal income less personal outlays) were $703 billion in August compared to $730.5 billion in July. The personal savings rate as a percentage of disposable personal income was 5.4% in February and 5.6% in July. While the savings rate of 5.4% is certainly better than we saw during the real estate bubble, where it briefly touched 2%, it's much lower than where it was during the '90s, let alone the '60s. During the '90s, we averaged close to 7%, and during the '60s, it was closer to 11%.
Implications for commercial REITs
For shopping center REITs like General Growth Properties (GGP), Simon Property Group (SPG), CBL and Associates (CBL), Macerich (MAC), and Taubman Centers (TCO), personal spending is an important driver for clients, so strength in retail spending lowers vacancy rates even if mall REITs don't operate stores directly. As long as consumer spending remains somewhat muted and consumer debt remains high, the Fed will be very hesitant to raise interest rates. This will have the added side benefit of keeping financing costs low for REITs, which is an important consideration.