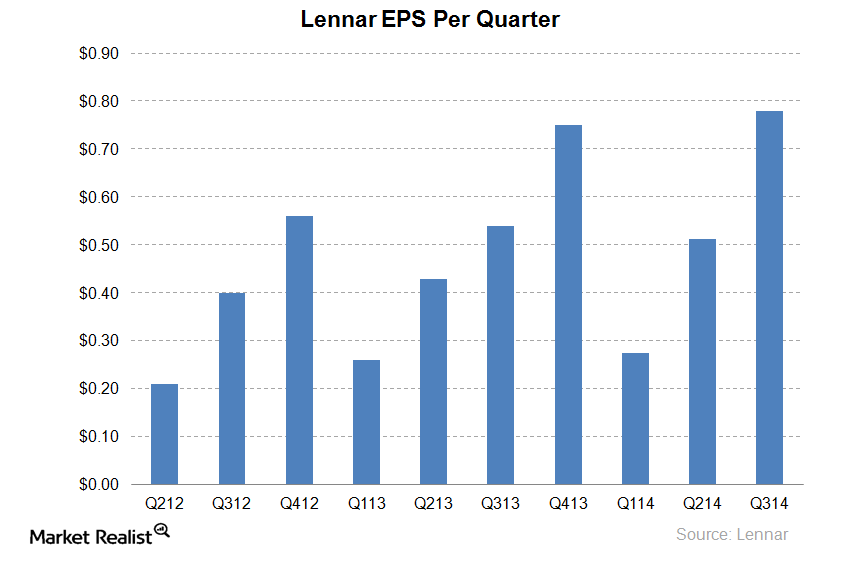 Must-read: Lennar Management's assessment of the recovery
By Brent Nyitray, CFA, MBA

Sep. 19 2014, Updated 1:00 p.m. ET
Earnings per share
Lennar reported net earnings of $177.8 million, or $0.78 a share, compared to net income of $120.7 million, or $0.54 a share, a year ago.  Lennar Financial Services contributed operating income of $27.1 million, compared to $23.5 million the year before.
The slowdown in mortgage origination hasn't only affected banks, but also builders. Rialto had operating earnings of $12.4 million. Lennar multi-family contributed operating earnings of $8.5 million compared to a startup operating loss of $5.6 million the year before.
Balance sheet
Article continues below advertisement
Lennar finished the quarter with cash and equivalents of $542 million. The big homebuilders, like D.R. Horton (DHI), Toll Brothers (TOL), PulteGroup (PHM), and KB Home (KBH), have been able to access highly attractive financing terms in the capital markets compared to the smaller builders, which have to rely on bank financing. In the capital markets, it has definitely been a case of the "haves" versus the "have-nots."
During the quarter, the company increased the size of its unsecured credit facility to $1.5 billion and retired its $250 million 5.5% senior notes.
Management comments
Lennar chief executive officer Stuart Miller had this to say about the housing market: "The housing market in general has continued its slow and steady recovery. This recovery has been driven by years of production deficit that has limited supply while demand has come back to the market. Concurrently, the market has been constrained by reduced access to credit available to many potential purchasers. The recovery has traveled in a fairly narrow channel driven by a need for production and limited by credit availability. Within that channel the road has been somewhat volatile, atypical of previous recoveries, and often difficult for many to read. Our core homebuilding business is hitting on all cylinders as we have properly considered and understood the uniqueness of this recovery."
Lack of credit availability has bedeviled other builders too—especially ones with exposure to first-time homebuyers, like Lennar (LEN), PulteGroup (PHM), D.R. Horton (DHI), and Standard Pacific (SPF). Once the first-time homebuyer returns, that will lift the entire sector.
Investors who are interested in trading the sector as a whole should look at the S&P SPDR Homebuilder ETF (XHB).