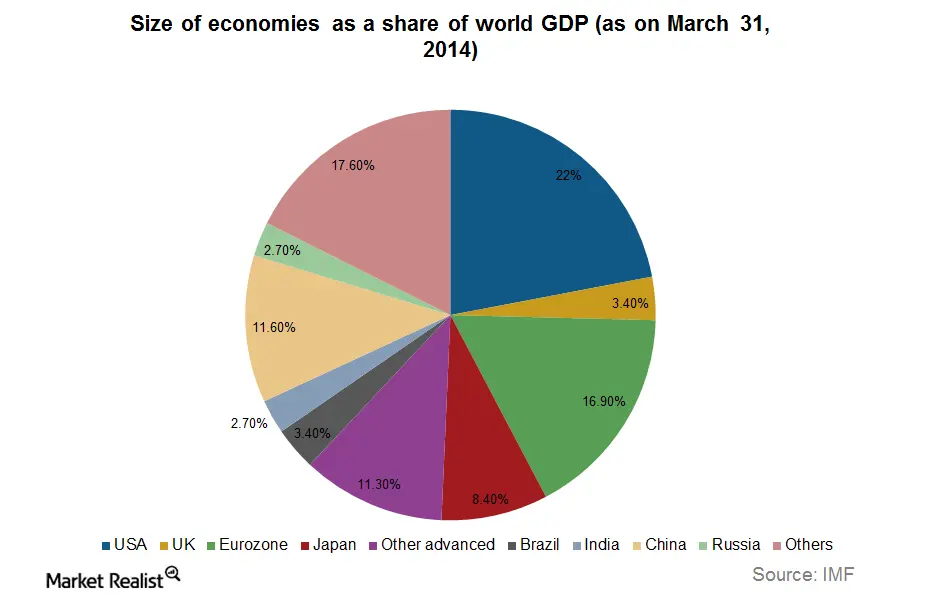 Despite a slowdown, China is still growing at a decent pace
By Russ Koesterich, CFA

Nov. 26 2019, Updated 12:06 p.m. ET
Relatively strong economic growth. Despite some signs that Chinese growth momentum is reversing from previous highs, the Chinese economy is still growing at a decent pace and government officials seem committed to growth of around 7%. In addition, local governments have implemented efforts to stabilize growth and support local property markets.
Market Realist – A slowdown in China's (FXI) growth is a cause of concern for investors all over the world, as China contributes 11.6% to the world GDP. You can see this contribution in the graph above. While the U.S. (SPY) contributes more than 22% of world GDP, the BRICS nations contribute almost 20% of the total world GDP. India (EPI) contributes 2.7%, Russia (RSX) contributes 2.7%, and Brazil (EWZ) contributes 3.4% to world GDP, as you can see.
Article continues below advertisement
China grew at 7.7% last year and the government is predicting a growth rate of 7% even this year. Despite the slowdown, this is still one of the highest growth rates in the world. As per Conference Board data, China's economic activity continued to grow in August even though its pace of growth was muted due to reports of cooling property markets.
The Conference Board's leading economic index for China increased in August by 0.7%.
But the International Monetary Fund (the IMF) believes that the cooling property market is headed for a gradual adjustment and there's no need for concern about a hard landing. As per Changyong Rhee, director of the Asia and Pacific department at the IMF, the IMF believes that China has many tools, including financial stimulus, which would ensure that economic growth stays well above 7%.
Read on to the next part of this series to see why the overall outlook for emerging Asian market growth looks positive.