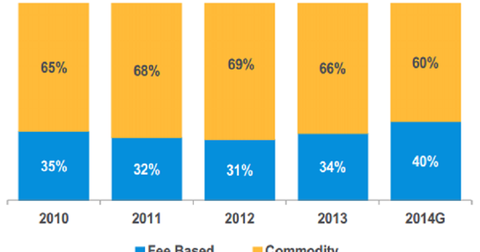 Must-know: ONEOK Partners' segment-wise contract mix
By Keisha Bandz

Updated
Segment-wise contract mix
Now that we've looked at various sources of margin across ONEOK Partners' (OKS) business segments, let's delve deeper into the margin mix within these segments.
Natural gas gathering and processing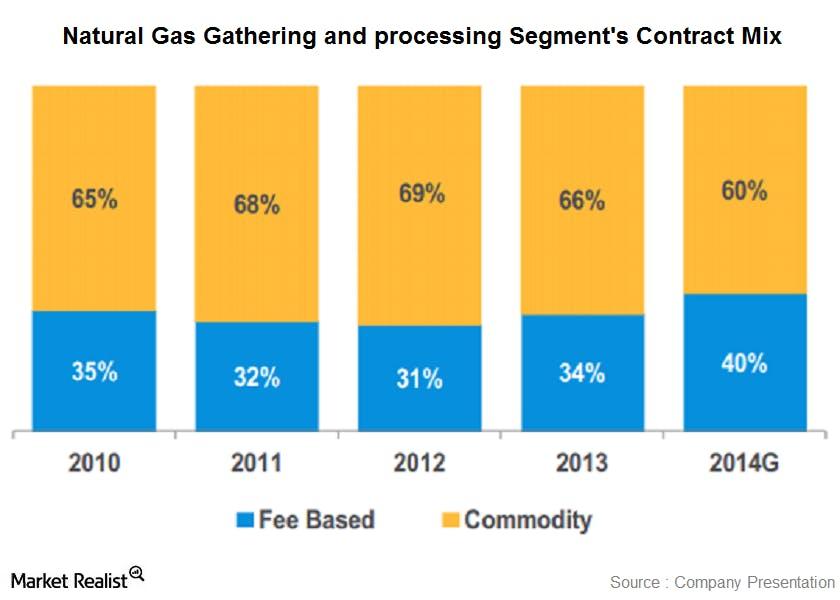 Contracts are either fee-based or commodity-based in this segment. According to the company's 2014 guidance, 40% of margins in this segment will be fee-based and 60% will be commodity-based.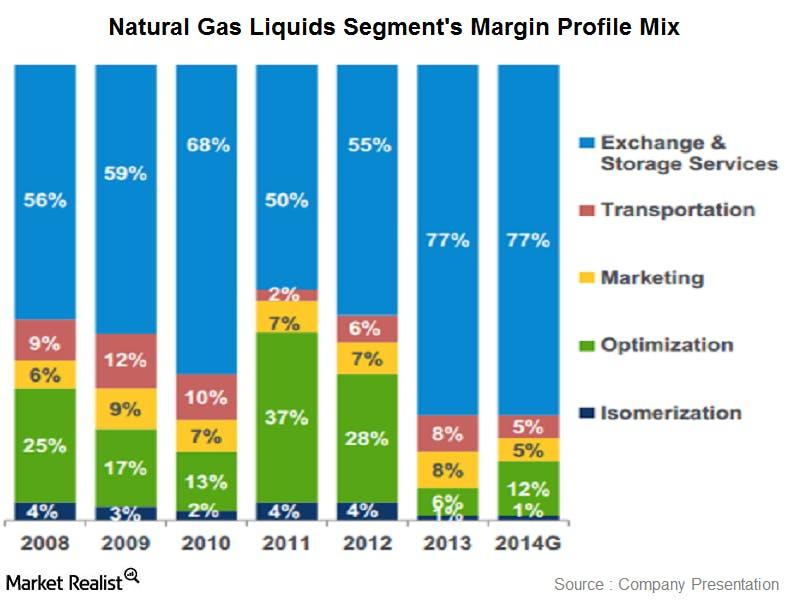 To understand the margin profile mix in the segment, we need to first consider the services offered by this segment. These include
Exchange and storage services
Transportation
Marketing
Optimization
Isomerization
In its exchange and storage services, OKS gathers, fractionates, transports, and stores NGLs (or natural gas liquids) and delivers them to market hubs where they're traded. The business is primarily fee-based.
Transportation services supply raw NGL feeds from the supply basins and NGL products to markets for a fixed-fee rate.
Under marketing, OKS purchases and resells approximately 60% of system supply at prices related to an index or benchmark for these prices. Price differences drive revenue, as discussed earlier.
The company also optimizes the highest NGL product price by directing product movement between market hubs. This is guided by price differentials.
OKS also has a small isomerization service that converts normal butane to isobutane to use in refining to increase octane in motor gasoline. This again relates to the price differential.
In 2014, the company expects to earn
77% of its margins in the natural gas liquids segment from exchange and storage services (fee-based)
5% from transportation (fee-based)
5% from marketing (differential based)
12% from optimization (differential based)
1% from isomerization (differential based).
This amounts to 82% fee-based margin and 18% differential-based margin.Natural gas pipelinesRevenues from this segment are predominantly fee-based. Contract types include firm service and interruptible service. Part 4 has covered these in greater detail.Read more about different natural gas processing contracts here.
Key ETFs
OKS is a component of several MLP ETFs, including the Alerian MLP ETF (AMLP)—which tracks the Alerian MLP Infrastructure Index (AMZI)—the Global X MLP ETF (MLPA), and the First Trust North American Energy Infrastructure Fund (EMLP).
Continue reading the next part to learn about major operational issues brought about by price differentials.