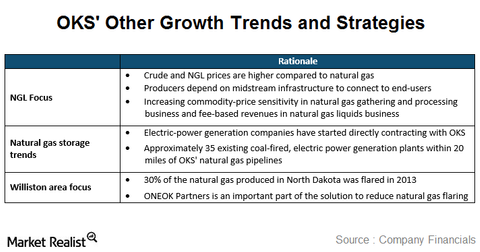 Must-know: ONEOK Partners' growth trends and strategies
By Keisha Bandz

Updated
Natural gas liquids focus
ONEOK Partners (OKS) expects continued demand for midstream infrastructure by producers who need to connect their increasing crude and NGL production with end user markets where current infrastructure is insufficient or nonexistent.
With this in focus, OKS has been investing considerably into this segment.
When completed, ONEOK Partners expects these projects to increase volumes in its businesses and generate additional earnings and cash flows. It also expects increasing commodity price sensitivity in its natural gas gathering and processing business and fee-based revenues in its natural gas liquids business.
Natural gas storage trends
Many regional electric power generation companies—which are converting from coal to natural gas—and natural gas distribution companies have begun to directly contract with ONEOK Partners' natural gas pipelines business for its natural gas storage and transportation services.
OKS is well-positioned to benefit from this trend. It has 35 existing coal-fired, electric power generation plants—which represent more than 26,000 megawatts of capacity—within 20 miles of its natural gas pipelines.
OKS believes that its natural gas pipelines business can provide flexible services that electric utilities need to convert their coal-fired plants to natural gas.
Natural gas flaring
In 2013, the NDIC estimated that nearly 30% of the natural gas produced in North Dakota was flared because producers were able to drill and complete wells more rapidly than natural gas gathering and processing infrastructure could keep up with.
ONEOK Partners is an important part of the solution to reduce natural gas flaring in the region, as it continues to build essential natural gas infrastructure to increase natural gas processing capacity and well connections.
Bakken NGL Pipeline is a major example of OKS' efforts towards this issue. The $455 million, 600-mile pipeline has the capacity to transport 60,000 bpd (or barrels per day) of unfractionated NGLs from the Williston Basin.
Key ETFs
OKS is a component of several MLP ETFs, including the Alerian MLP ETF (AMLP)—which tracks the Alerian MLP Infrastructure Index (AMZI)—the Global X MLP ETF (MLPA), and the First Trust North American Energy Infrastructure Fund (EMLP).
To learn more about the Alerian MLP ETF, click here.
The following part talks about how OKS financially measures up to its peers.
Article continues below advertisement