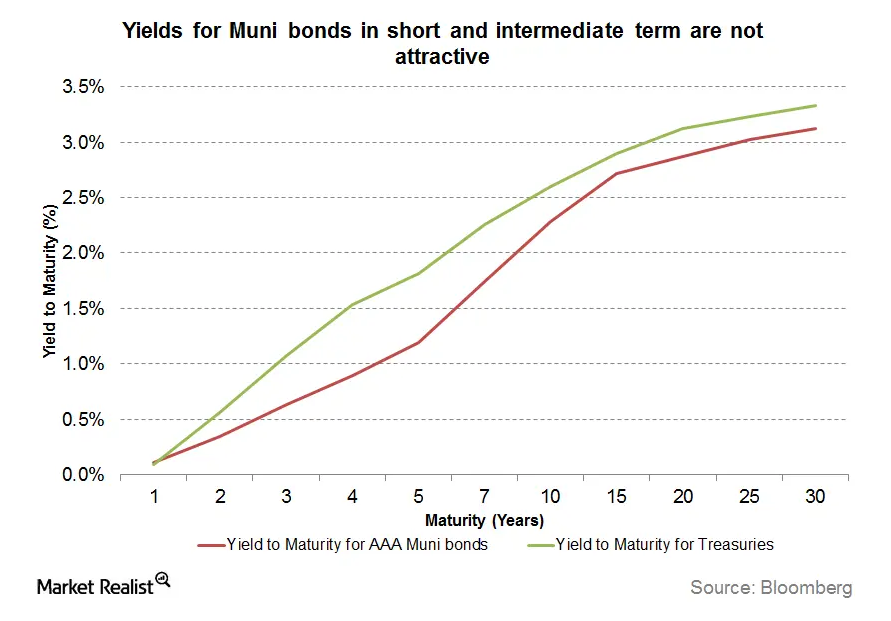 Why investing in long-term municipal bonds makes more sense
By Peter Hayes

Nov. 26 2019, Updated 12:01 p.m. ET
2. Work the barbell. The middle portion of the municipal yield curve (short and intermediate maturities) is looking relatively pricey at this juncture. For that reason, we suggest a barbell approach that favors maturities below two years on one end (for trading flexibility) and above 15 years on the other for some potential yield pick-up. While short-term and intermediate munis are looking expensive, we think longer maturities continue to appear attractive versus Treasuries and, we believe, represent absolute and relative value.
Market Realist – The above graph shows the yield curves as of September 15, 2014, for both municipal bonds (MUB) and U.S. Treasuries (TLT). Since prices are inversely proportional to yield for bonds (BND), the graph can give us a fair idea as to which maturities look over-priced.
Article continues below advertisement
Market Realist –  The graph above shows the spreads between yields of AAA rated municipal bonds and U.S. Treasuries for the 35% tax bracket. As you can see in the above graph, short-term Treasuries (SHY) with maturities of three years are giving higher yields than municipal bonds, as indicated by the negative spreads. The spreads are high for ten-year muni bonds and Treasuries (IEF) and are the highest for 30-year Treasuries (TLT).
So it makes sense to invest only in the longer-term muni-bonds, as the spreads with U.S. Treasuries (TLT) are the widest for muni-instruments with maturity exceeding 15 years.
Read on to the next part of this series to learn why you should leave credit research to the professionals.