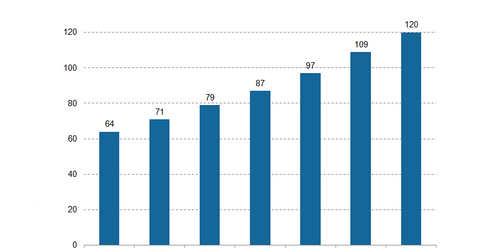 Why the increase in mobility and cloud computing impacts Symantec
By Anne Shields

Aug. 29 2014, Updated 8:00 a.m. ET
Growth in data is creating opportunities
Bring your own device is driving mobile device security
Rapid adoption in mobile usage and the increasing preference towards bring your own device (or BYOD) to work have led to increased information exchange. BYOD, cloud computing, and mobile have let the consumers and employees access confidential data and information outside original, secure data centers and firewalls. This has led to a stupendous increase in information theft. According to TechNavio, U.S. security market revenues were $4.1 billion in 2012 and are expected to touch $5.9 billion by 2016. Demand for software applications and increased awareness of security issues and threats are expected to contribute to this growth.
The previous chart shows the expected growth in the cyber security market. According to MarketsandMarkets, this market is expected to grow at a compounded annual growth rate (or CAGR) of 11.3% during 2011–2017.
Sensing the huge opportunity that the mobile, cloud, and BYOD market presents, Symantec launched high value products like Norton Cloud and Mobile Workforce Productivity that are aimed at mobile device security.
BYOD presents challenges, contributing to global security market growth
Article continues below advertisement
BYOD presents a significant challenge in terms of supporting multiple devices with multiple operating systems and architectures. The global security market is expected to get a boost due to increasing use of diverse operating systems. Citrix (CTXS) is a leading player in the mobile device management space.
In 2012, Symantec acquired Nukona, a mobile application management software provider, and Odyssey Software, a mobile device management software provider. Symantec, through its Nukona acquisition, got itself a technology that allows mobile devices to plug directly into management platforms. So this technology lets mobile devices to be added without server complications, and it's driven by mobile virtualization. VMware (VMW) is a leader in this market with plenty of BYOD offerings.
Expansion of mobile partner ecosystem
To enable safe, sensitive, and secure information management across iOS and Android platforms, Symantec has integrated its Encryption Management Server with Norton Zone. Developers and malware writers are targeting Google's (GOOGL) Android, an open platform, to write and distribute applications. Norton Mobile Security provides protection for Android smartphones and tablets, iPhones, and iPads. This is unlike Apple's (AAPL) iOS ecosystem, which is closed. Symantec has also expanded its Mobile Partner Ecosystem, which includes approximately 60 partners and close to 125 applications.
Symantec, known globally for its Norton antivirus, is now focused on integrating its various security solutions for BYOD in the enterprise into a comprehensive platform.