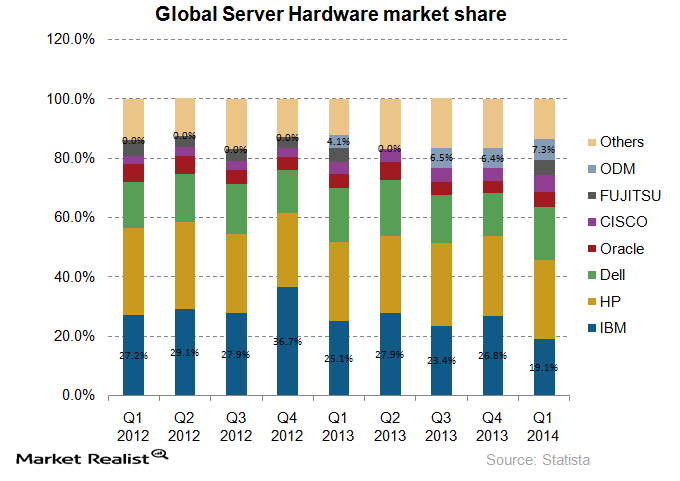 Must-know: Why has IBM lost its hold on the server market?
By Anne Shields

Jul. 14 2014, Updated 9:00 a.m. ET
IBM and the server market
The worldwide server market has seen falling revenues. It used to be dominated by HP and IBM. HP (HPQ) still leads the global server market, with 27% market share. IBM Corp. (IBM) is close behind, with 26% of market share.
After Q1 2014 results came out, IBM saw a rapid decline in its market share. It's now at 19.1%.
These market leaders are losing their dominance. The growing popularity and fast adoption of cloud computing is a major threat to server manufacturers.
The chart above shows the quarterly global market share for server system vendors. You can see IBM's falling market share and ODMs' rising market share.
A shift in industry dynamics
Asian companies like Quanta Computer and Wistron Group are the original design manufacturers, or ODMs. They used to manufacture white-labeled servers. These servers were branded and sold by HP and IBM.
But, with the emergence of cloud services, ODMs' preferences shifted. Companies wanted to increase their presence in the cloud space. So instead of selling these servers to IBM or HP, they sold to large cloud-based providers like Google (GOOG), Microsoft (MSFT), and Amazon (AMZN).
The leading cloud service providers have ever-growing data centers that can hold customers' confidential information in a safe and secure environment.
Article continues below advertisement
Also, Facebook (FB) server designs are available for free. They're much more cost- and energy-efficient. Facebook started its "Open Compute project" or OCP. This is an initiative to share efficient server and data center designs. OCP includes companies like Rackspace, Goldman Sachs, and Arista Networks. The latest addition is Microsoft in 2014. OCP collaborates with other open-source software projects to help develop energy-efficient servers.
Cloud computing's staggering growth
According to Forrester, cloud computing is expected to reach $150 billion by 2020. This expected growth is phenomenal when you consider that cloud services amounted to only $35 billion in 2011.
According to IDC, at least 40% of the data in 2020 is expected to be "touched" by the cloud at least once.
The massive growth expected in the cloud space and the rising market share of server design manufacturers have prompted industry leaders to aggressively step forward in the cloud space. IBM, in response to the changing market dynamics, announced the sale of its commodity server business to Lenovo for $2.3 billion in January 2014. IBM pulled out a strategy to shift its focus from the hardware business to cloud services.