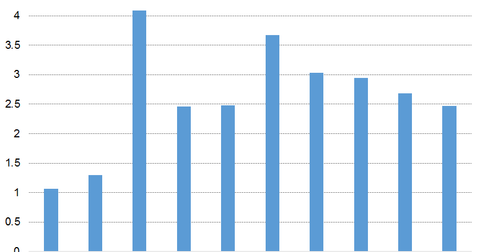 Why leverage in the steel industry is a double-edged sword
By Mohit Oberoi, CFA

Updated
Leverage: The link with risk

Steel is a capital-intensive business, as we've already discussed. There are high fixed costs that increase companies' operating leverage. To add to that, there are high interest costs to increase financial leverage. Leverage, simply put, reflects of fixed obligations for a company. It can include rent, leases, or interest payments. Now, if things are looking good, leverage is actually good, as the fixed costs are distributed among a greater number of units. The problem arises in downturns, where sales go down but fixed expenses stay relatively stable. So it's a double whammy of falling sales and similar expenses. This leads to drastic effects on a company's profitability. In a nutshell, leverage increases the riskiness of a stock while, at the same time, magnifying returns in a bull market.
To meet high capital requirements, steel companies take on a lot of debt. In this article, we'll analyze the historical leverage ratio of the steel industry. We use net debt–to–EBITDA as a measure for leverage.
Improving leverage
As you can see in the chart above, the leverage ratio has been improving. The reasons for the decline are:
Article continues below advertisement
Excess capacity: Already the steel industry is operating at sub-optimal productivity levels, as you've seen so far. Coupled with an uncertain outlook, companies have been reluctant to take debt and add further capacities.
Growth in profitability: The ratio has also improved because of the positive development in steel industry earnings. Raw material prices have been falling. This helps steel companies' profitability ratios.
An improving ratio is a positive sign for the industry. It signals that companies aren't expanding their operations. But it also means lesser interest burden for companies like Arcelor Mittal ADR (MT), United States Steel Corporation (X), Nucor Corporation (NUE), and Reliance Steel & Aluminum (RS). ETFs investing in steel companies, like the SPDR S&P metals and mining index (XME), also benefit.
Stock performance: How has 2014 been?
This year, steel stocks have largely underperformed the broader markets. Up to June 9, 2014, global steel producers are lagging the market by 11.5%. While steel prices have been only flat to negative over the year, equity prices are down 8.2%. European steel has been the best-performing sector, with double-digit returns.