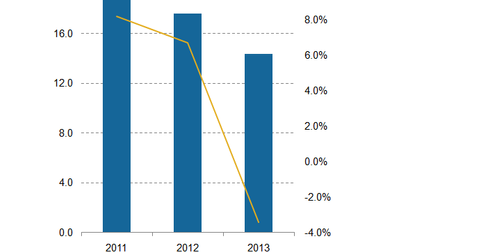 Why IBM's hardware segment drags on the company's performance
By Anne Shields

Updated
IBM's hardware segment
IBM's Systems and Technology, STG, or "hardware" division provides clients with business solutions. These solutions require advanced computing power and storage capabilities through Systems, Storage, and Microelectronics. The Mainframe or System z, Systems, Storage, and PowerSystem businesses together form IBM's hardware business.
The chart above shows you year-over-year revenue and margin growth of  the hardware segment. You can see that both revenues and margins follow a declining trend. Margins were negative in fiscal 2013.
"System z," IBM's mainframe business, is often characterized as the company's cash cow. But it's cyclical and has now entered the backend of the product cycle. This offers the company no respite from the declining performance of its hardware segment.
In April 2014, IBM launched mainframe applications geared to mobile, cloud, and "big data" platforms. The Power Systems business, IBM's high-end server unit, focuses on Unix and Linux computing.
Contribution to revenues
In fiscal 2013, STG contributed ~14% to IBM's total revenues. It reported a negative operating margin of -3.4%. STG's contribution to total revenues has been falling with each passing year. Among all IBM segments, it contributes the lowest margins.
This is why IBM decided to offload its low-end server segment to Lenovo and shift its focus and investments to "cloud computing."
IBM lost its server market leadership position to HP (HPQ) in 2013. Oracle (ORCL) too is struggling with its hardware segment. Yet its contribution to the overall hardware market is small. Dell Inc. (DELL) and EMC Corporation (EMC) are key players in this segment.
Declining performance
STG has been under pressure for the last couple of quarters with a constant decline in revenues. Demand is slowing in emerging markets—especially China, which accounts for ~5% of the company's revenues. IBM prefers emerging markets, as they provide scope for top line expansion.
Article continues below advertisement