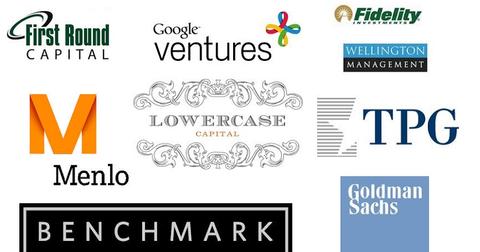 Why Uber's history and financing mean a big, big valuation
By Ingrid Pan

Updated
History of Uber's funding
Uber was founded in 2009 by Travis Kalanick and Garrett Camp. Since its inception, the company has gone through multiple rounds of funding. The latest round of $1.2 billion was announced on June 6, 2014, valuing the company at $17 billion pre-money. The total amount raised will be ~$1.4 billion after a second closing. Uber's investors include Benchmark Capital, TPG Growth, Google Ventures, Summit Action Fund, Troy Carter, Amazon's (AMZN) Jeff Bezos, Menlo Ventures, Goldman Sachs (GS), and First Round Capital.
Prior to this last round of funding, Uber raised $258 million in August of 2013. Before that, the company raised $37 million in December 2011, $11 million in February 2011, and $1.3 million in October 2010.
What does the latest round mean?
To give some perspective, a $17 billion valuation puts Uber at roughly the value of LinkedIn (LNKD), which has an enterprise value of $18 billion, and not too far below Twitter (TWTR) which has an enterprise value of $21 billion. In lay terms, this is a big, big valuation.
Article continues below advertisement
The $1.4 billion capital injection should give Uber plenty of cash to play with in order to continue its rapid geographic expansion, possibly acquire other smaller competitors, price its services aggressively to force out competitors, recruit more drivers, fight regulatory hurdles (which we'll discuss later in this series) and experiment with new services and features such as UberRUSH (which we'll also discuss later in this series).
Outlook
Though Uber in its current form operates as a service to connect passengers to drivers, the company could operate in the future as a logistics provider on the scale of FedEx (FDX) and United Parcel Service (UPS). Uber could also affect the operations of same-day delivery services provided by companies such as Amazon (AMZN) through Amazon Prime, or eBay (EBAY) through eBay Now. Plus, transportation could be completely changed with solutions that draw from Uber's geographic reach and technology and the advent of driverless cars from a company such as Google (GOOG), which has funded part of Uber through its investment arm called Google Ventures. eBay, Google, FedEx, UPS, and Amazon are part of the S&P500 Index and corresponding ETF (SPY). We'll discuss these themes later in this series.