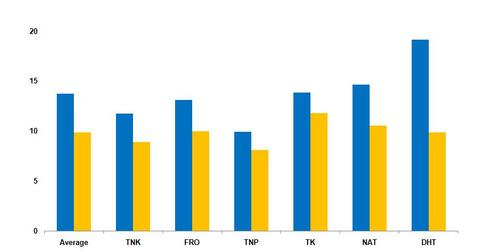 Why Teekay's spot market outlook and valuations attract investors
By Katie Dale

Updated
Outlook spot tanker rates
Spot tanker rates have softened since January 2014, when they peaked to a five-year high, as the market enters the seasonally weaker Northern Hemisphere summer months. However, industry analysts believe that stronger oil demand, contained growth in crude tanker fleets, and improving economic conditions should support the average spot tanker rates remaining firm in 2014.
Factors leading to a positive outlook
Article continues below advertisement
With an expected fleet growth of just over 1% in 2014—the lowest level of fleet growth since 2001—TNK believes the tanker market is at a turning point, with a tighter supply and demand balance supporting higher fleet utilization and, therefore, improved spot tanker rates over the next year. Also, tanker demand growth is estimated at almost 3% in 2014
For the second and third quarters of 2014, spot tanker rates are expected to be higher compared to the same period in 2013, mainly due to higher refinery runs as they come out of seasonal maintenance. Also, new refinery capacities coming online in the Middle East and Asia and the further expected tightening of supply and demand fundamentals are likely to support the price increase. Shrinking mid-size fleets, led by higher estimated scrapping than new vessel delivery in the market, is expected to be a main contributing factor to a recovery in spot tanker rates.
Outlook for 2015
Looking ahead to 2015, fleet growth is expected to come in at just under 2%, while demand growth should come in at 2014 levels of 3%. This indicates that over the next two years, TNK estimates tanker fleet utilization to return to the mid-80% range or higher. This, in turn, should mean an improvement in spot tanker rates compared to the very low levels we've seen in recent years.
Attractive valuation
Forward EV/EBITDA (enterprise value over earnings before interest, tax, depreciation, and amortization) is useful for transnational comparisons because it ignores the distorting effects of individual countries' taxation policies.
Compared to its peers Frontline Ltd. (FRO) and Nordic American Tankers Ltd. (NAT) recording fiscal 2015 forward EV/EBITDA of 10.0 and 10.5, respectively, Teekay Tankers Ltd. recorded 8.9. DHT records 9.9 in fiscal 2015 EV/EBITDA. Meanwhile, the industry average fiscal 2015 forward EV/EBITDA stands at 9.9. This suggests that, comparatively, TNK is undervalued. The Guggenheim Shipping ETF (SEA) tracks these shipping companies.