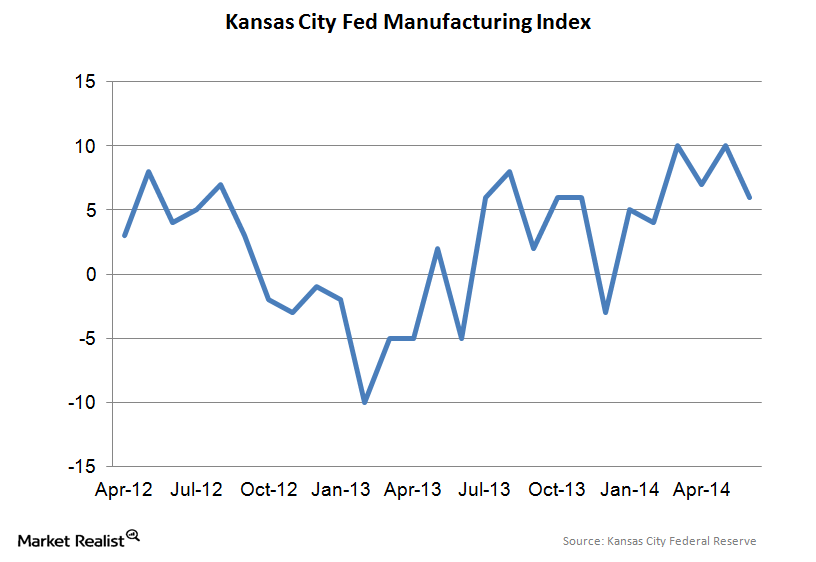 Kansas City Fed Manufacturing Report shows moderating activity
By Brent Nyitray, CFA, MBA

Dec. 4 2020, Updated 10:53 a.m. ET
The Kansas City Fed Manufacturing Survey is a barometer of economic conditions in the 11th district
The survey is put out by the Kansas City Fed and covers a wide range of economic indicators, from general business conditions to new orders, shipments, unfilled orders, delivery times, inventories, prices paid and received, headcount, and average work week. It also asks businesses for their outlook six months out. It focuses on the 10th Federal Reserve District, which includes Kansas, Missouri, Colorado, Oklahoma, Wyoming, and New Mexico. It's similar to the other Fed Surveys, including the Empire State Manufacturing Survey and the Chicago Fed National Activity Index.
The index weakens in June
Article continues below advertisement
The general business conditions index slipped 4 points to +6,  coming off the the best reading in two years in May. Interestingly, the reason for moderation in factory growth was attributed to a difficulty in finding qualified workers—or perhaps non-lazy workers. One of the selected comments read, "It is not so much a question of short supply of workers, but rather a question of workers who are reliable and possess a strong work ethic." This isn't the type of statement you usually find in a regional Fed report, but there it is.
Implications for homebuilders
Overall, the report echoes many of the other Fed reports that show manufacturing is improving overall. It also could mean that we might start seeing the housing recovery spread out from a few areas like California, Texas, the big cities, and Phoenix to places where the recovery has been tepid, particularly in the Midwest. Investors in homebuilders need to take a good look at the geographic exposure of their stocks. Over the last couple of years, the West Coast–centric builders like KB Home (KBH) and Standard Pacific (SPF) have done the best, as tight inventory has allowed them to raise prices at will. Most of the builders have been reporting double-digit increases in average selling prices. If the Kansas City Fed report is to be believed, and manufacturing activity is picking up in the Midwest, it would be time for investors to look at builders that have exposure to the Midwest—particularly the more diversified builders like D.R. Horton (DHI) and PulteGroup (PHM). Investors who prefer to simply make a directional bet on the sector as a whole should look at the S&P SPDR Homebuilder ETF (XHB).