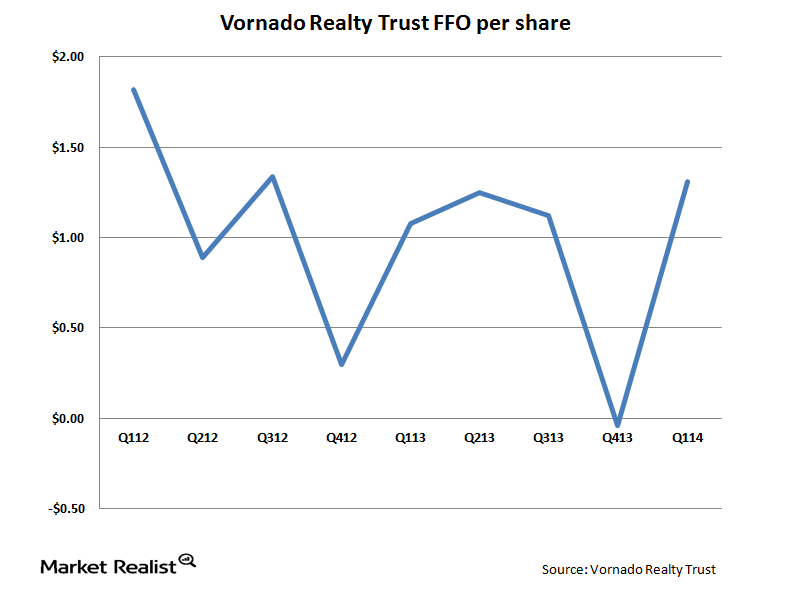 Why does Vornado report an increase in funds from operations?
By Brent Nyitray, CFA, MBA

Dec. 4 2020, Updated 10:53 a.m. ET
The Funds From Operations metric
Funds From Operations (FFO) is a common operating metric of REITs in general. It's defined by the National Association of Real Estate Investment Trusts (NAREIT) as: "GAAP net income or loss adjusted to exclude net gains from sales of depreciated real estate assets, real estate impairment losses, depreciation and amortization expense from real estate assets, extraordinary items, and other specified non-cash items, including the pro rata share of such adjustments of unconsolidated subsidiaries." Many REITs use funds from operations, including office REITs like Vornado (VNO), S.L. Green (SLG), and Boston Properties (BXP) as well as retail REITs like Simon Property (SPG) and General Growth Properties (GGP).
Article continues below advertisement
The genesis of FFO comes from the fact that GAAP accounting assumes real estate depreciates predictably over time. However, history has shown that real estate values increase and decrease with the the market. The GAAP depreciation may or may not reflect reality. FFO is intended to give a better description of operating cash flow than simply net income.
Vornado Realty Trust's funds from operations increase
Even though FFO is meant to exclude extraordinary items, in practice there still are adjustments so that FFO from one quarter may not be comparable to FFO from another quarter. For the first quarter of 2014, Vornado reported FFO of $1.31 a share versus FFO of $1.08 in the first quarter of 2013. However, when you make certain adjustments, FFO increased from $1.13 to $1.20.
Vornado Realty Trust held a partial ownership position in the Toys R Us store chain at the end of 2013. Losses attributed to Toys "R" Us have had large effects on net income. Second, as a retailer, Toys "R" Us is highly seasonal. This makes it difficult to do quarter-over-quarter comparisons for Vornado. Some analysts prefer to use EBITDA instead of FFO.