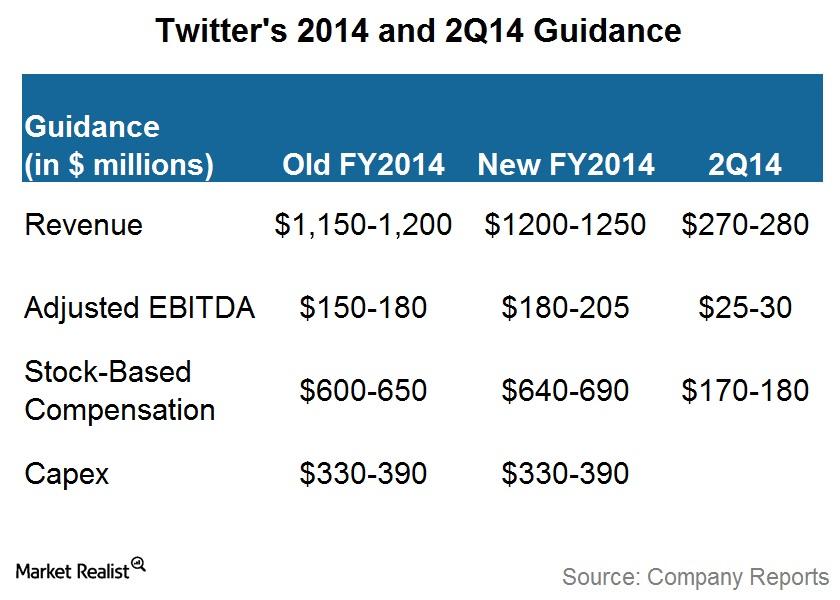 Why did Twitter revise its 2014 guidance upward for the year?
By Ingrid Pan

Dec. 4 2020, Updated 10:53 a.m. ET
2Q14 guidance announced, and FY2014 guidance revised upwards
Twitter revised its guidance upwards, partly on better-than-expected 1Q14 performance and partly due to better expectations for its advertising business and inclusion of Gnip. The table below summarizes these guidance changes. The company also provided 2Q14 guidance.
Synergistic Gnip acquisition drives increase in 2014 guidance
Twitter management noted that part of the increase in revenue and EBITDA guidance was due to the inclusion of Gnip. Twitter announced on April 15 that it would acquire Gnip, a company that provides data and analytics on social media. Deal terms weren't disclosed.
Article continues below advertisement
Twitter's announcement regarding the acquisition stated, "Gnip has played a crucial role in collecting and digesting our public data and delivering the most essential Tweets to partners… Together we plan to offer more sophisticated data sets and better data enrichments, so that even more developers and businesses big and small around the world can drive innovation using the unqiue content that is shared on Twitter. We will continue making our data available to Gnip's growing customer base."
In lay terms, Gnip is a top provider of analytics of social media, which is valuable to companies that desire insights on customer behavior and trends. Meanwhile, Twitter is a major platform with a huge amount of social data to mine, resulting in a synergistic relationship.
Twitter (TWTR) is a social media company, with similarities to other social media companies such as Weibo (WB), Facebook (FB), and LinkedIn (LNKD). Twitter is a minor component of certain tech and Internet ETFs, such as the Vanguard Information Technology ETF (VGT) and the First Trust DJ Internet Index Fund (FDN).
Continue to the next part of this series for more in-depth commentary on Twitter's current state.