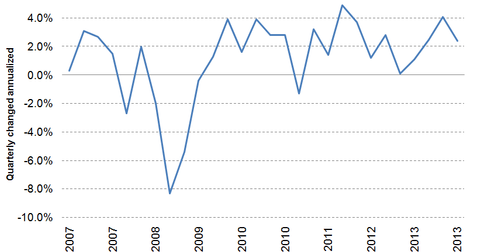 A recovering economy: Does the manufacturing sector promise growth?
By Surbhi Jain

Aug. 18 2020, Updated 9:22 a.m. ET
The Great Recession
The Great Recession hit the U.S. economy in 2008-2009. The housing bubble also known as the credit crises, which was a result of Americans with the poorest credit being leant money to purchase houses they couldn't afford, impacted the U.S. economy badly. Broad market ETFs like the SPDR S&P 500 (SPY), and the iShares S&P 100 (OEF), real estate ETF like the Vanguard REIT Index ETF (VNQ), along with stocks of banks like Citigroup Inc. (C) and Bank of America (BAC), all saw their prices slump.
For the past four years, the U.S. economy has seen modest recovery. As can be seen in the chart, the GDP growth rate, which had plummeted past -8%, is now near the 2-3% level. Along with damaging the economic growth and credit availability, the crises also shook investor and consumer confidence.
Investor confidence was shaken, as the economy went into a credit squeeze and borrowing money became very expensive.
However, with the Federal Reserve stepping in to provide liquidity in the market through its quantitative easing (or QE) or mass bond-buying program, the situation improved to quite an extent. Investor and consumer confidence in markets and the U.S. economy are slowly getting back on track.
Article continues below advertisement
All major sectors were hit by the financial crises, including the manufacturing sector. Consumer confidence was affected, which is reflected in a dip in new orders and other such manufacturing sector drivers. Manufacturing sector indicators like the Richmond Fed Manufacturing Index, the PMI Manufacturing Index, and the Kansas City Fed Manufacturing Index plummeted around 2008-2009.
Read the next part of the series to know how the manufacturing sector has recovered since then and how is it performing currently.