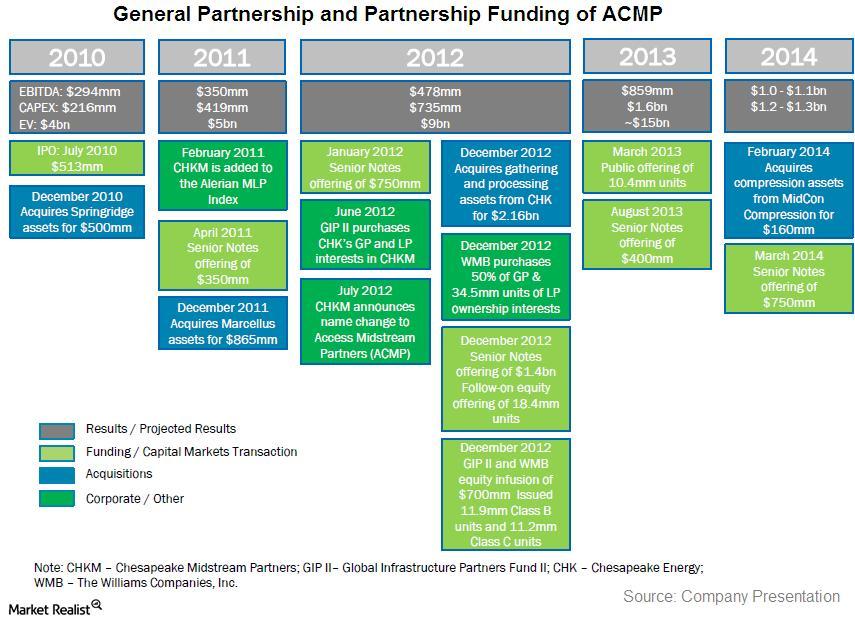 The partnership with GIP and Williams Companies strengthens ACMP
By Alex Chamberlin

May. 9 2014, Published 1:00 p.m. ET
The partnership that benefits ACMP
GIP and Williams Companies, Inc. (WMB), through their joint ownership of Access Midstream Ventures, L.L.C., own the general partner interest in ACMP. As of February 19, 2014, GIP and Williams Partners own 54.9% of ACMP's limited partner interests. ACMP benefits from its experience and relationship with its sponsors, Global Infrastructure Partners (GIP) and The Williams Companies. GIP is an independent infrastructure fund that invests in infrastructure assets and businesses worldwide. The company focuses on value creation through operational focus and improvement. WMB owns and operates natural gas pipeline system extending from Texas, Louisiana, Mississippi, and the offshore Gulf of Mexico. WMB gathers, treats, and processes natural gas and produces, fractionates, stores, markets, and transports natural gas liquids (or NGLs).
Article continues below advertisement
Williams provides an established history of managing, developing and completing large-scale organic projects within the midstream sector. A partnership with WMB adds leverage to ACMP to utilize WMB's expertise of managing, developing, and completing large-scale organic projects within the midstream sector. On the other hand, its relation with GIP is unique because it brings both a strong financial backbone and operational capability that GIP possesses. GIP is a global infrastructure fund manager with over $15 billion under management. Apart from ACMP, GIP's investments in energy infrastructure include Ruby Pipeline, Transitgas Pipeline, Terra-Gen Power, and Channelview Cogeneration.
The sponsors (that is, GIP and Williams) invested $700 million in equity in support of the December 2012 acquisition of CMO. Through this acquisition, ACMP received ownership in certain midstream assets in the Eagle Ford, Utica, and Niobrara regions from a subsidiary of Chesapeake (CHK) for $2.1 billion. The strategic investment provides evidence of strong commitment on the part of the general partners. Plus, after February 10, 2014, ACMP received notice from certain of the GIP II Entities and Williams, as holders of the Class C units, of their election to convert all of the Class C units into common units. This increased the general partners' limited partnership interest by 5,599,634 units, or by ~3% of ACMP's total 189,131,773 common units outstanding as of February 19, 2014.
Access Midstream Partners, L.P. (ACMP) is a master limited partnership operating in the midstream energy space. Williams Companies (WMB) and Global Infrastructure Partners jointly own ACMP's general partnership. The majority of ACMP's revenues come from Chesapeake Energy (CHK). ACMP is part of the Alerian MLP ETF (AMLP) and Chesapeake is part of the SPDR S&P Oil & Gas Exploration & Production ETF (XOP).