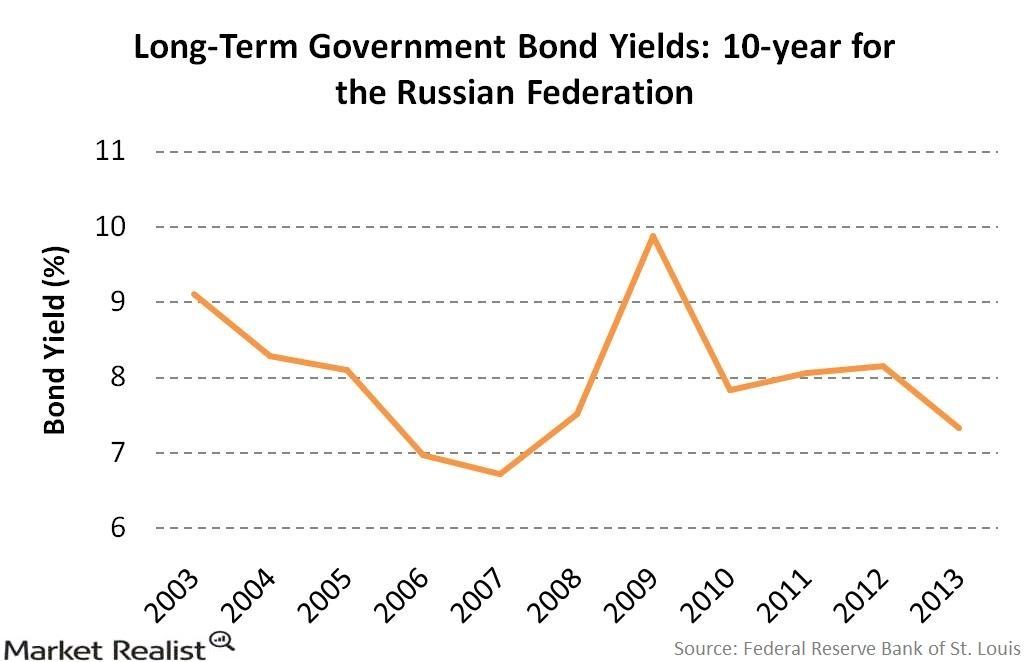 Must-know: What allows Russia to step away from issuing bonds?
By Surbhi Jain

Nov. 20 2020, Updated 12:23 p.m. ET
Russia's rating drops to BBB-, a notch above junk level
On April 25, Standard & Poor's cut Russia's rating to BBB-, a notch above junk level citing heavy outflows of capital as posing increased risk of deterioration in external financing.
"The tense geopolitical situation between Russia and Ukraine could see additional significant outflows of both foreign and domestic capital from the Russian economy and hence further undermine already weakening growth prospects," S&P said in the statement.
Article continues below advertisement
While prices of ETFs with exposure to Ukrainian and Russian securities, like the iShares MSCI Emerging Markets Eastern Europe ETF (ESR) and the VanEck Vectors Russia ETF (RSX), have bottomed out amidst the rising tensions between Russia and Ukraine, the spill-over effect has been felt even by broad market indices like iShares S&P 100 Index Fund (OEF), which has companies like Apple Inc. (AAPL) and Exxon Mobil Corporation (XOM) in its portfolio.
For the past nine weeks, the Russian government has stopped issuing sovereign bonds in the light of the downgrade. Recently, Russia cancelled its planned sale of five-year and nine-year government bonds in the rouble-denominated OFZ market. Russia stopped the bond sales, as the government believes that the price demanded by investors does not reflect the country's credit quality.
Russia can afford to step away from capital markets temporarily given the high oil price and the strength of its balance sheet. The root of this confidence lies in tax revenues via the country's export of oil and gas. Considering that oil and gas sales are made in dollars and converted to roubles, as Russia's currency weakens, those sales are translating into more roubles than before. So, Russia is in a strong position to finish the year with a budgetary surplus, if oil prices stay where they are.
For up-to-date information on the geopolitical market risks, visit Market Realist's Global Equity ETFs page.