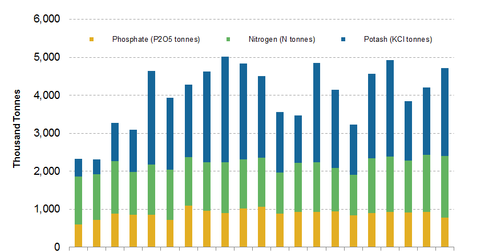 Logistics and production issues hit PotashCorp's shipments
By Xun Yao Chen

Updated
Shipments
Fertilizer shipments is one variable that affects PotashCorp (POT), Mosaic Company (MOS), Intrepid Potash, Inc. (IPI), and Agrium Inc.'s (AGU) top line revenue, which flows down to earnings and share prices. Since the VanEck Vectors Agribusiness ETF (MOO) invests in agriculture businesses, it will also be affected. As one of the largest potash supplier in the world, one might say PotashCorp's shipments reflect market fundamentals for the overall potash industry.
Potash
Article continues below advertisement
During the first quarter, PotashCorp sold 2.3 million tonnes of potash, up 3.82% from same period last year. Shipments to customers in North America rose to 1.0 million tonnes, up 24% from last year, as the company was able to leverage on its extensive warehousing and distribution capabilities to meet strong demand. However, PotashCorp's off-shore market saw shipments fall from 1.4 million tonnes last year to 1.3 million tonnes for the first quarter of 2014 due to delayed Chinese and Indian contracts, two of the largest users of potash worldwide, and logistical challenges.
Phosphate
Weather-related factors also negatively affected phosphate plant's operate rate and sales for the first quarter in 2014. Its phosphate business sold 0.8 million tonnes during the first quarter of 2014, lower than 0.9 million tonnes sold in first quarter of 2013.
Weather-related disruptions
Weather-driven disruptions and timing of contracts makes year-over-year growth comparisons difficult. However, these factors are often short-lived. Without weather issues, PotashCorp–and likely other peers in the industry–would have seen higher sales. So what wasn't supplied in the first quarter will be shipped toward the second and maybe third quarters. Although phosphate and potash prices in the spot market may come down when more supply is available, as transportation bottlenecks untie, first quarter results point to a pretty healthy demand.